Luxury retailers Hotel Chocolat, Harvey Nichols, Pierre Marcolini and Fortnum & Mason are going extravagant this Easter. Here's our pick of the premium treats on offer
Fortnum & Mason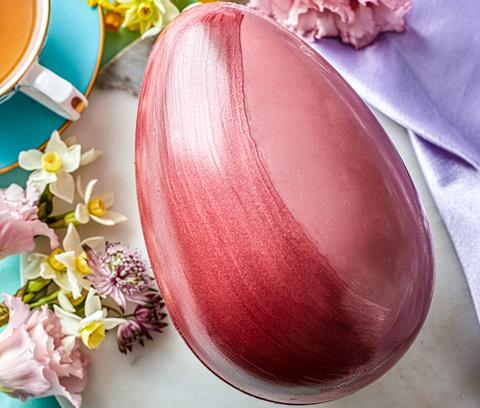 Ruby Chocolate Easter Egg
Rsp: £35/315g
This delicate pink egg is a feast for ruby chocolate lovers. Inside the hand-painted shell is a selection of ruby chocolate truffles, which contain a soft caramel centre flavoured with Himalayan salt crystals.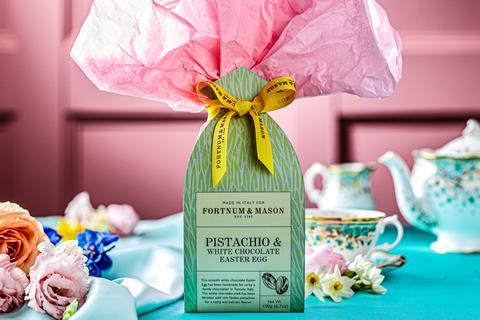 Sicilian Pistachio & White Chocolate Easter Egg
Rsp: £29.95/190g
Hand-crafted for the retailer by a family-run chocolatier in Tuscany, this green-hued egg features a white chocolate shell packed with Sicilian pistachios for a "rich and nutty" finish.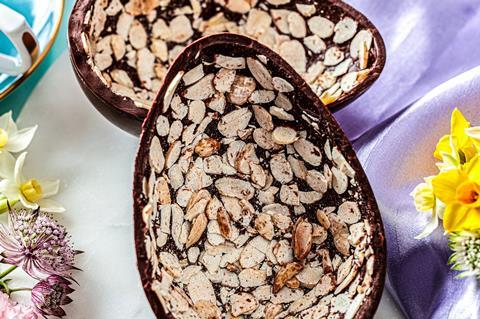 Sicilian Almond & Dark Chocolate Easter Egg
Rsp: £29.95/190g
Another nutty addition is this dark chocolate and almond egg, which is suitable for vegans. The "decadent" 71% cocoa shell may look plain, but the inside is coated with a layer of flaked Sicilian almonds for a "deliciously fragrant" surprise.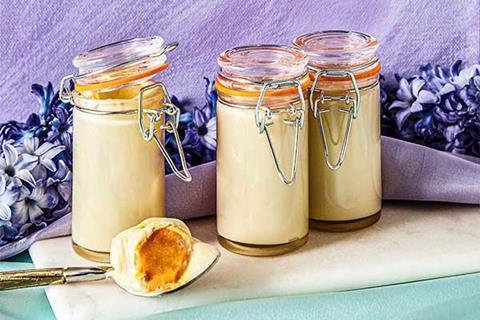 Chocolate Ganache Coddled Easter Egg
Rsp: £19.95/210g
It's coddled egg, but not as you know it. This indulgent treat features an orange oil truffle "yolk" submerged in white couverture chocolate ganache, flavoured with whisky cream.
Hotel Chocolat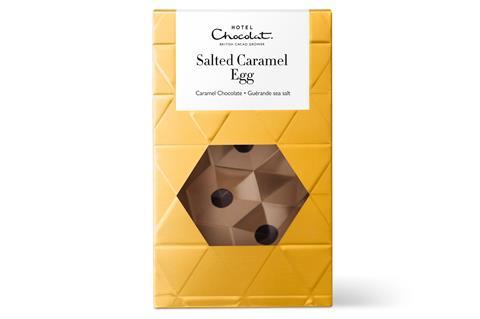 Salted Caramel Hard-Boiled Egg
Rsp: £15/220g
This latest addition to Hotel Chocolat's Hard-Boiled Egg collection is made from caramel milk chocolate, flavoured with French Guérande sea salt. The egg, which features a bold geometric design, joins flavours such as Mint, Ginger and Brownie in the range.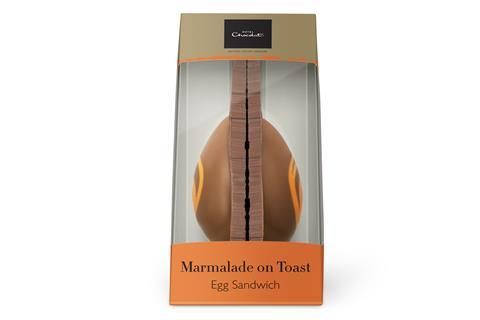 Marmalade on Toast Egg Sandwich
Rsp: £10/135g
The retailer's chocolate sandwich range is also getting a new recruit. This caramel chocolate treat is flavoured with tangy Seville orange, and contains crispy feuilletine to give it a "toasty crunch".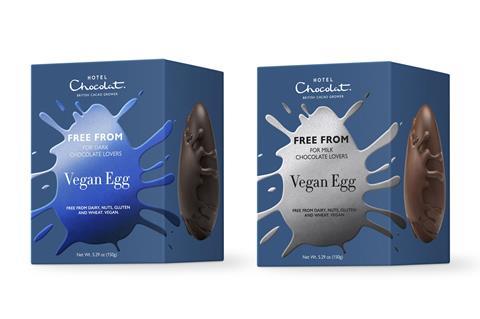 Free From Soft Boiled Eggs
Rsp: £10/150g
These creamy, "meltingly delicious" eggs come in vegan Milk and Dark variants and feature a striking splattered egg design. Unlike the rest of the Soft Boiled range, which features Milk, Dark and White eggs with yellow cacao butter "yolks", the pair are also gluten-free.
Harvey Nichols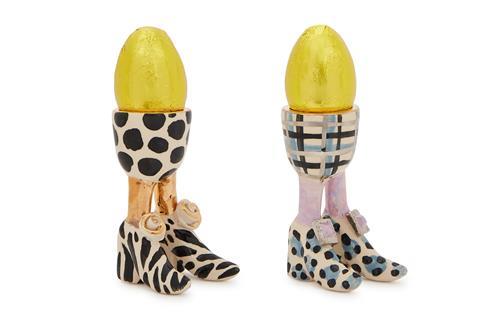 Eggs with Legs
Rsp: £55
Easter breakfast has never looked so fabulous. Available in Rose Edition (left) and Jewel Edition, these quirky hand-painted egg cups have been created for Harvey Nichols by ceramic designer Mary Rose Young. Once the hollow chocolate egg inside has been eaten, the cup can be used to add some glamour to any boiled egg and soldiers.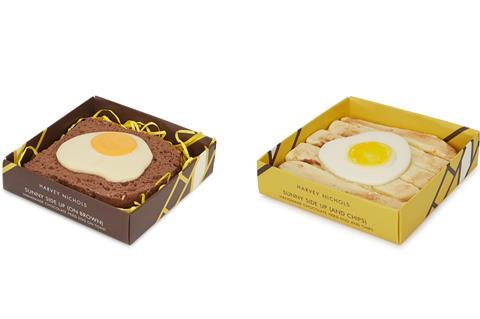 Sunny Side Up
Rsp: £8.95
Made exclusively for Harvey Nichols by Bath-based chocolatier Choc on Choc, these Sunny Side Up eggs are available on brown toast (120g) or with chips (160g). The realistic-looking treats are made from Belgian chocolate, so don't go reaching for the ketchup.
Scotch Eggs
Rsp: £7.95/160g
Also created by Choc on Choc is this selection of Scotch Eggs. This sweet take on the picnic favourite is made from milk and white Belgian chocolate, with a salted caramel fudge "yolk" in the centre.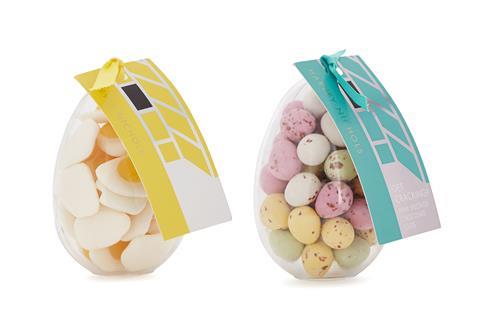 Get Frying
Rsp: £5.95/145g
Comprising a clear plastic egg full of retro fried egg gummy sweets, this gift pack is "perfect for hiding in the garden for an egg hunt", according to Harvey Nichols. It is also available in a Get Cracking variant (rsp: £6.95/185g), which is filled with chocolate mini eggs.
Pierre Marcolini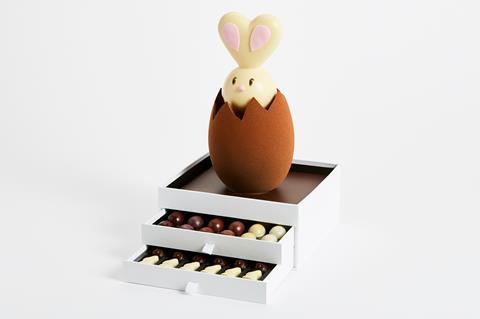 Le Grand Lapin
Rsp: £139/1.15kg
Pierre Marcolini's standout product combines two Easter favourites – a chocolate egg and bunny – in one showstopping creation. A white chocolate rabbit nestles inside a dark, cocoa-dusted egg, which stands on a set of two drawers. These are filled with a selection of treats including praline eggs and chocolate animals. The centrepiece is also available as a whopping 78cm version, called Le Lapin Extraordinaire (rsp: £1000/13kg).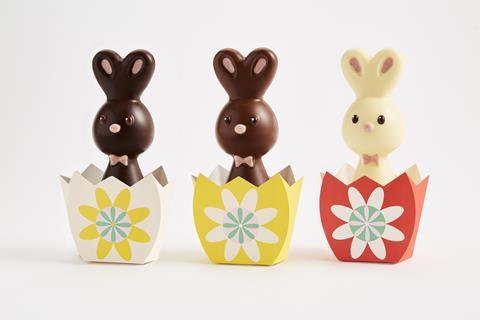 Three Mini Rabbits
Rsp: £9.90/50g
Easter wouldn't be complete without a chocolate bunny, especially one as stylish as Pierre Marcolini's. Available in milk, dark or white chocolate, these rabbits are finished with delicate detailing, including a pink bow tie, and presented in a colourful case.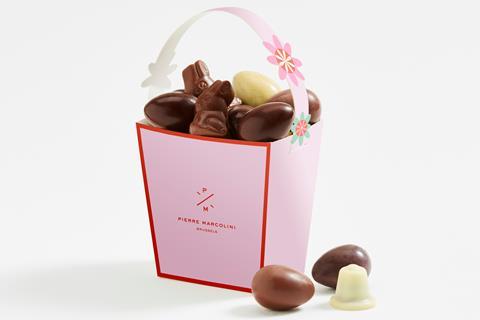 Basket of Praline Eggs
Rsp: £16.90/146g
This pretty basket is the "ideal accessory" this Easter, according to the chocolatier. Available in a range of colours, the baskets contain an assortment of 12 miniature eggs and four chocolate animals, in flavours such as almond & sesame nougat and hazelnut praline.
Supermarket Easter ranges 2020
1

2

Currently reading

Easter 2020: luxury chocolate launches from Fortnum & Mason, Hotel Chocolat and Harvey Nichols

3

4

5

6