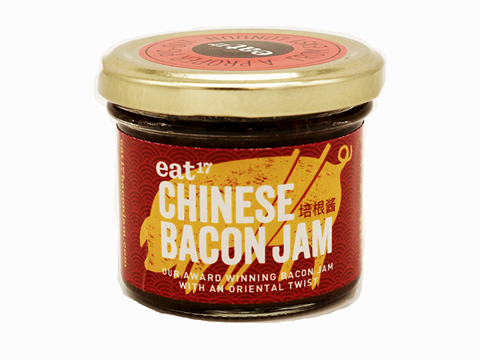 London food chain Eat 17 has launched a new oriental variant of its bacon jam.

Available now from Eat 17 stores (rsp: £3.99), Chinese Bacon Jam blends Chinese five spice, soy sauce and sesame oil with the brand's original Bacon Jam recipe for "complex salty, sweet and aromatic tastes".

An "ideal accompaniment to Summer barbecues" as a burger relish or dipping sauce, it could also be used to complement Asian dishes and stocks, stews and sauces, the company said.

"We're here to give our customers the best, delicious food and that's why we've simply listened to what the UK loves about Bacon Jam and made an even better version," said Eat 17 co-founder Chris O'Connor.

"Blending traditional Asian flavours together with our bestselling Bacon Jam recipe, we created the Chinese Bacon Jam - it's a truly versatile and delicious version of the savoury relish with a Chinese twist."

The new meaty relish joins Eat 17's existing lineup of Original, Chorizo Jam, Chilli & Bacon Jam and Onion Jam.