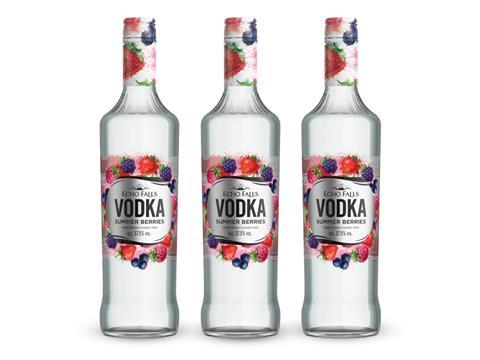 Echo Falls is moving into spirits with the launch of a Summer Berries vodka.
The 37.5% abv drink is rolling out with an rsp of £13.50-£16, with an eye to "building on the success of Echo Falls' Fruit Fusions wine range", the brand said.
It is being targeted at "a younger demographic to the average BWS shopper" and would push Echo Falls "beyond the wine aisle and into a new area of growth and profit opportunity for the trade", added brand manager Laurence Hinton.
"Consumer research showed a clear desire for a flavoured vodka from our customers, and because of its overwhelming popularity in the UK, Summer Berries was the natural choice. As flavoured vodka holds a price premium over non-flavoured vodka, there is space in the market for more affordable offerings."
Billed as a "versatile" option, Echo Falls Summer Berries Vodka had "recognisable light and fresh flavours" that made it ideal for cocktails, the brand said. Bottles of the vodka feature pleating around the neck, with a double-printed back label to "maximise the brand presence" on-pack. It rolled out this week into Spar, B&M, Savers, P&H, Bargain Booze, Nisa, Today's, Landmark and Bestway.
It will be backed by a £5m push over the coming year that will see the brand advertised in a "unique and large-scale way", including above the line, social, digital and experiential activity. Branded PoS materials will also be available.
Further products were likely to follow, said Hinton.