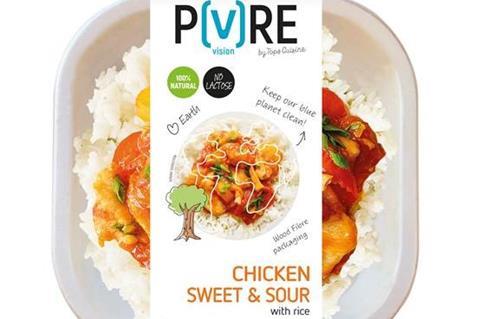 Wigan-based supplier Enterprise Brands is bringing a "revolutionary", low-plastic, long-shelf life ready meal brand to the UK.
Called Pvre, the brand is manufactured by Belgian supplier Tops Foods, which uses globally patented microwave technology to pasteurise the meals in a matter of minutes. The brand said this process sealed in texture and colour, and preserved nutritional value.
This gave the meals a shelf life of up to 21 days, compared with competitors that "mostly have a shelf life of a mere couple of days" it added.
No steam or water is used during the pasteurisation process, meaning the ready meals can be packed in 85% wood fibre packs, which otherwise would not survive the process.
It was "the fruit of intense teamwork" as well as "major investments in our processes and factory", said Tops Foods MD Michel Tops.
The packs would remove 20 tonnes of plastic from the supply chain for every million meals sold, he added.
It is understood Enterprise Brands, which is to sell and distribute the brand in the UK, is in talks with a major UK retailer over exclusive listings.
Its range comprises chicken tikka masala, chicken green curry, spaghetti bolognese and sweet and sour chicken, none of which contain any artificial additives or preservatives.
The chicken tikka masala is gluten-free, while the rest of the meals are lactose-free.
"There are meals out there which can be packed in wood fibre trays but they don't have this process, so they have about seven days, which might only be five days once it's in store. We've got 21 days at delivery," said Enterprise Brands director Mike Connolly.
"The key point about the whole concept is to make great-tasting, sustainable products at a price everyone can afford." They would likely carry a mid-tier rsp, he added.