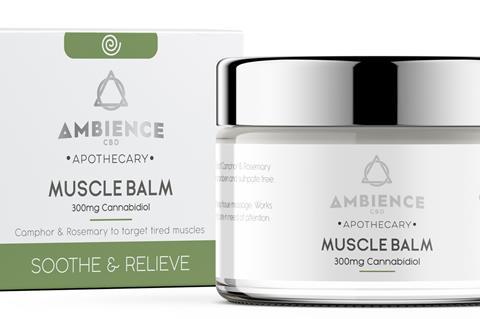 Essex's Eos Scientific has unveiled a luxury range of cannabidiol-infused skincare care products, to tap the "huge spike in popularity for premium CBD products".
The five-strong Ambience Apothecary aromatherapy lineup is rolling out to Boots this week, to branches including its Covent Garden 'store of the future', which opened in June.
Containing no animal products, the cruelty-free variants comprise Harmony & Calm Body Oil, Soothe & Relieve Muscle Balm, Uplift & Cleanse Foot & Leg Cream, Indulge & Nourish Body Butter, and Indulge & Nourish Radiance Face Cream (rsps: £45-£60/50ml-200ml).
Each had the potential to reduce inflammation, relieve aching and stress, "and prolong your skin's health" said Eos, which spent about 12 months developing the all-natural products, infusing each with 300mg of CBD.
Ambience Apothecary comes after a poll by Eos found 38% of Brits would use CBD "to help improve their wellbeing".
The Brentwood supplier wanted to create "a luxurious and ethical skincare product that would set ourselves apart from our competitors" said CEO Simon Manthorpe. "We believe we have delivered a premium CBD range that delivers the benefits of aromatherapy in an all-new first for the market."
Around a year ago, Eos launched the lower-priced Everyday Ambience, a selection of moisturisers with cannabidiol, which are available online from Boots and in store at Holland & Barrett.