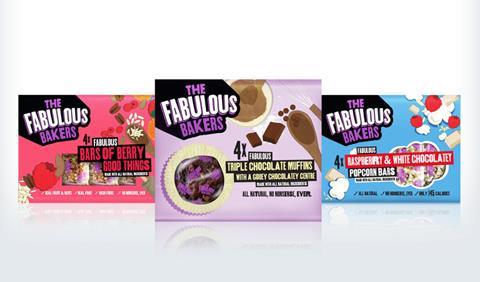 Fabulous Bakin' Boys – which was acquired last year by Dutch family-owned business Daelmans Group – is relaunching as The Fabulous Bakers.
The Witney-based company is next month rolling out a range of reformulated and new products made with no artificial colours, flavours or preservatives. In addition to the brand's muffins, minis muffins, cakes and flapjacks, the range is being expanded to include popcorn bars and oaty cereal bars.
Daelmans will be launching an advertising and PR campaign in the summer to promote the new brand, which features updated packaging and POS material.
The Fabulous Bakers chief executive Richard Cooper described the UK branded baked goods category as currently "confectionery hiding in sheep's clothing, often pretending to be natural when the products are full of artificial preservatives, stabilisers, inverted glucose syrups and unnecessary e-numbers".
He said The Fabulous Bakers had "changed everything about our offering" and was pioneering a more back-to-basics way of making baked goods.
"The team is really excited to be the first mainstream branded bakery to use only natural, honest kitchen-cupboard ingredients with no artificial nonsense," he added. "Our research shows parents and guardians want natural, great-tasting snacks for their families and we think we've cracked that particularly tough challenge."
The company will be hoping the launch can turnaround the business. Sales of The Fabulous Bakin' Boys lines crashed 36.6% last year to £8.6m [Nielsen 52w/e 14 October 2014].
Daelmans produces a range of cakes and pastries including stroopwafels (caramel waffles) and shortcake for private label and under the Daelmans and De Molen's Banket brands.
THE FABULOUS BAKERS NEW PRODUCT LINE-UP
POPCORN BARS
Apricot and Almond White Chocolatey Popcorn Bar
Raspberry & White Chocolatey Popcorn Bars
FLAPJACKS
Chip Off The Old Choc Flapjacks
Golden Oaty Flapjacks
Strawberry & Blueberry Flapjacks
BARS
Bars of Berry Good Things
Banana Brunch Bars
Mango & Pineapple Bars
MUFFINS
Triple Chocolate Muffins with a Gooey Chocolatey Centre
Banofee Muffins with a Gooey Fudge Centre
Berry Nice Muffins with a Real Fruit Compote
CUPCAKES
Double Choc Cupcakes
Vanilla & Double Chocolate Cupcakes
MINIS
Chocolate-Dipped Macaroons
Double Chocolate Mini Muffins with a Gooey Chocolatey Centre