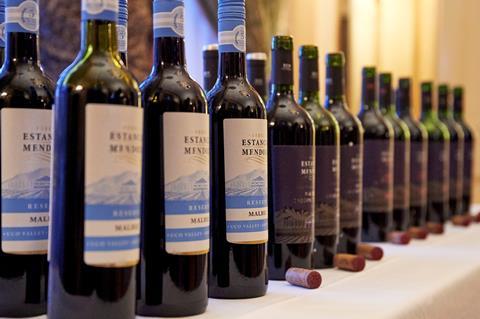 Argentinian wine giant Fecovita has launched a range of wines it says are specifically tailored to British tastes.
The brand, Bodega Estancia Mendoza, is one of Argentina's bestsellers, but the wines launched in the UK were designed in partnership with UK distributor Benchmark Drinks.
The range is comprised of three tiers – a duo of 'Reserve' wines, a trio of more premium Uco Valley Estate Malbec, Cabernet Sauvignon and Cabernet Franc, and a premium Uco Valley Single Vineyard Malbec.
The wines were "good value, easy-drinking, rounded, fresh and fruity", said Fecovita CEO Juan Ángel Rodríguez.
The Reserve wines are currently rolling out across Morrisons' UK estate (rsp: £8/750ml). Fecovita said it planned to plough approximately £250K into growing the brand in the UK over the coming year.
Uco Valley wines were "usually priced a lot higher than this" said Benchmark Drinks MD Paul Schaafsma. "In terms of delivering value for money these are quite exceptional."
The brand had also "been pushing sustainability since before it became trendy", he added.
"Our model is completely open – certain products are bottled here in the UK and others, considering the quality of the wine, are bottled at source," said Rodríguez.
Those that are being bottled in the UK are being bottled by Greencroft, whose estate is powered by wind turbines.
"We have a very close relationship with our suppliers and we are working on different types of bottles such as lighter bottles," Rodríguez added.
November saw Fecovita launch Toros Centenaro, a Mendoza malbec, into 800 Tesco stores.
Benchmark recently hired former Sainsbury's wine buyer Richard Dennis as marketing director.