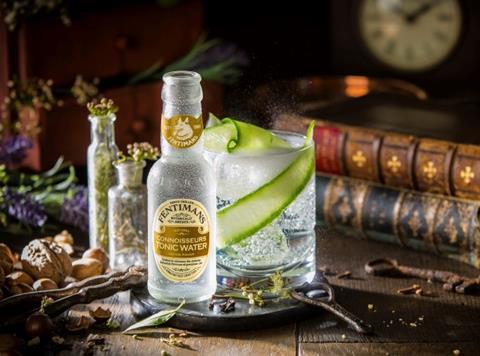 Fentimans has unveiled its latest premium tonic - one aimed at "gin connoisseurs".
The booming mixer brand's new Connoisseurs Tonic Water is billed "crafted to enhance the delicate botanical flavours of premium gin". It is rolling out this week in 125ml, 4x200ml (rsp: £3.40) and 500ml (rsp: £1.80) bottles. Fentimans recommended wholesalers set their own price for the 125ml format.
It was "important that Fentimans create drinks that meet the needs of an increasingly discerning and knowledgeable audience" said the brand's marketing director, Andrew Jackson.
The launch follows a major rebrand for Fentimans, which last month rolled out new-look bottles across its portfolio, featuring new neck tags adorned with a canine mascot and the tagline 'Botanically brewed, exquisitely crafted'.
The brand recently appointed Ian Bray, former MD of London brewer Fuller, Smith & Turner, as its new CEO. He is due to take up the role on 1 April.
Fentimans founder Eldon Robson told The Grocer last month that the brand "needed to get more ambitious".
A £1.2m push will kick off at the end of February to "focus on our position as botanically brewed beverages" said Robson. "It's been our biggest strength and our biggest weakness in a way because it's how we make everything, but it's bloody difficult to get people to understand."
The UK gin boom sent tonic water sales skyrocketing past the £100m mark last year. Brits took home an extra £31.6m worth of tonic over the 52 weeks ending 13 August 2017, accounting for an additional 17.7m litres [Kantar Worldpanel]. This led to soaring sales for Fentimans, which almost doubled its value from £2.6m to £5.1m over the same period.