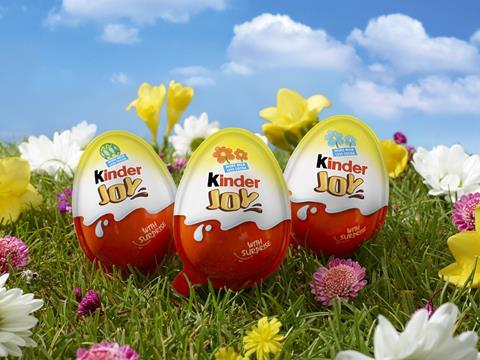 Ferrero is expanding the booming Kinder brand with new format Kinder Joy.
The product, available from December (rsp: 99p/20g), is a plastic egg that divides into two halves. One contains a Kinder Surprise-style toy, and the other layers of cocoa and milk-flavoured creams topped with two crispy cocoa-covered balls.
Kinder Joy offered a £3.6m incremental sales opportunity based on its performance in Ireland this spring, said Ferrero customer development director Levi Boorer.
"We anticipate this launch will replicate the success of Kinder Joy in Ireland where 40% of buyers were completely new to Kinder Surprise and 8% were incremental to the entire Easter confectionery category [Dunhumby]," said Boorer. "This gives us real confidence Kinder Joy will be a huge success in the UK, as the consumers have very similar purchasing habits.
"As you would expect with our biggest launch of the year, we will be supporting Kinder Joy with a heavyweight marketing campaign designed to capture the imagination of mums."
Alongside the new launch, Kinder's spring line-up will include returning products Kinder Mini Eggs, Choco-Bons, Mini Figures, Surprise Bunny and Surprise Pink and Blue. Ferrero is also adding the 240g Grand Rocher - a large chocolate shell containing four individual Ferrero Rocher (rsp: £8.99) - to its Easter line-up.
Kinder Surprise sales are up 16.8% to £61.0m [Nielsen 52 w/e 5 September 2015].