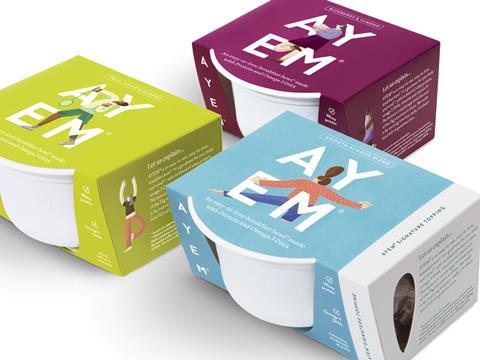 A bircher-style breakfast pot brand designed to "fill the morning protein gap" has become the first product to be launched by Danone's Manifesto Innovation Accelerator programme.
Ayem, the brainchild of the programme's general manager, Manuela Borella, went on sale in Ocado and selected independents last week in Original Almond Blend; Pear, Apple & Almond; and Blueberry & Almond (£2.49/152g).
The pots are a blend of almonds, milk, fruit and seeds, and contain 9.8g of protein per 100g. They are also fortified with vitamin D and omega-3 DHA acid.
Ayem said its recipe offered a "unique texture" combining the "firmness of a chia pudding and the varied bite of a bircher muesli".
The Innovation Accelerator was launched by Danone to support "a tribe of internal ent-repreneurs to accelerate new business models". It is part of the dairy giant's push to diversify outside its core dairy categories.
The food and drink giant – which acquired Alpro in 2016 – has already said it will start launching plant-based versions of its dairy brands next year, as part of plans to triple plant-based sales by 2025.
It also launched a UK-based Innovation Incubator team earlier this year, tasked with bringing some of Danone's most popular ranges from overseas markets to the UK.
Meanwhile, Danone Manifesto Ventures, its New York based venture capital fund, has invested in a number of food and drink startups across the globe since launching in 2016.