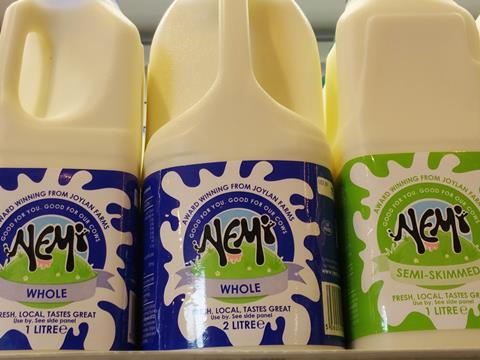 A dairy supplier has launched what it claims is Europe's first milk to be 'naturally enriched' with selenium.

The milk, from Naturally Enriched Milk Innovations, is produced by adding organic selenium source Sel-Plex to the diet of the cows, which results in milk with an average of 30µg of the mineral per litre compared with around 19µg in regular output, according to NEMI.

The product was launched this year after nine years of work by dairy nutritionist Andrew Henderson, and is available in indies priced at about £1.95/2-litre. The business is also supplying schools in Shropshire and Cheshire East. Alongside its three sizes of whole, semi-skimmed and skimmed milk, Henderson said the company, which works in partnership with four farms, was developing a cheese and fat-free milkshakes using the milk.

The business hopes to appeal to the 90% of the UK public who are selenium deficient, with the average daily intake of 33µg far below the RDA of 55µg as well as the average intake in other EU countries [European Food Safety Authority].

Low selenium intake is associated with a weakened immune system. "Without enough, the body's ability to fight illness and infection is greatly reduced and recovering from illness will take longer," said Henderson.

The farmers on NEMI's four farms in Cheshire, Shropshire and Lancashire receive 30ppl for their produce, compared with 20pp -30ppl paid by most dairy processors and supermarkets.