With a flood of new sweet treats landing on shelves each month, vegans are now more spoilt than ever when it comes to premium chocolate. Here's our pick of the most interesting launches to tuck in to this World Chocolate Day (7 July).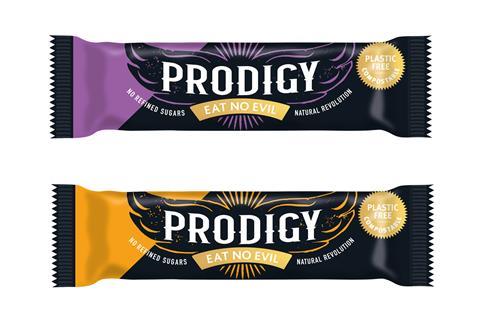 Prodigy
Launched: June 2019
A vegan chocolate bar that's good for you, the planet and tastes good? It may sound a lot to ask, but Prodigy Snacks has delivered on all three with its new chunky chocolate bars. The plain Chunky Chocolate and Orange Chocolate with Baobab bars (rsp £1.75/35g) are made with natural, raw and organic ingredients and are free from gluten, refined sugar and even plastic, as the wrappers are fully compostable. The range, which is available at Sourced Market and online at Amazon, will be expanded in August with two more flavours – Peanut & Caramel and Coconut Chocolate.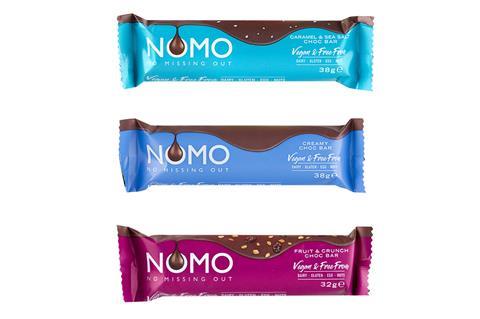 Nomo
Launched: May 2019
No missing out. That's the mantra behind Nomo, whose range of dairy, gluten and nut-free chocolate bars were created "to ensure that vegans, or those suffering from a food intolerance, don't have to miss out on loving good chocolate". The chocolate bars (rsp: 99p/35g) come in Caramel & Sea Salt, Fruit & Crunch, Dark Choc and Creamy Choc flavours. Available in all 800 Holland & Barrett stores.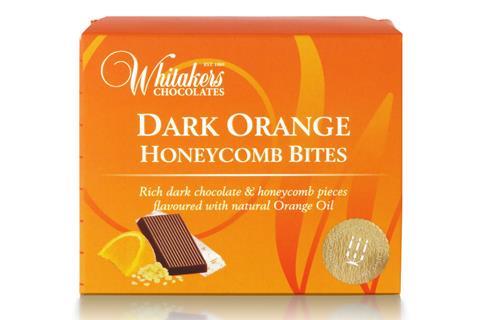 Whitakers
Launched: January 2019
Alongside a range of dairy chocolate, Yorkshire-based chocolatier Whitakers now boasts an extensive vegan offering. The range includes chocolate bars in 70% Dark, Dark English Mint and Dark Ginger (rsp: £2/90g), Wafer Thins in Dark Mint and Dark Ginger (rsp: £3.50/175g), and Dark Orange Honeycomb Bites (rsp: £4/150g). What's more, Whitakers made its vegan-friendly status official last week when it was registered by The Vegan Society.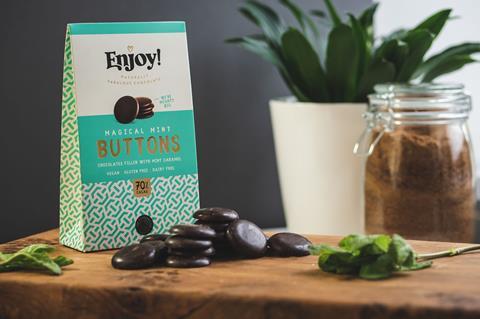 Enjoy
Launched: June 2019
After food intolerances forced Chris Crutchley to avoid chocolate for 15 years, he decided enough was enough, and began to create his own from his home kitchen. The result is Enjoy, a range of vegan, organic confectionery, which is free from the 14 main allergens including dairy, soya and gluten.
The range boasts 26 SKUs: filled chocolate buttons in Magical Mint, Opulent Orange, Delightfully Dark and Sumptuous Salted Caramel (rsp £4.99/96g); caramels in salted, orange and vanilla (rsp: £4.99/72g, £9.99/144g); solid bars in Delightfully Dark, Daringly Darkest, Opulent Orange, Captivating Coconut, Magical Mint and Cheeky Cherry (rsp: £1.49/35g, £2.99/70g)); and bars filled with Vanilla and Salted Caramel (rsp £2.99/70g). There is also a non-chocolate offer of fudge, which comes in in Magical Mint, Opulent Orange, Barmy Banoffee and Velvety Vanilla flavours (rsp: £4.99/100g).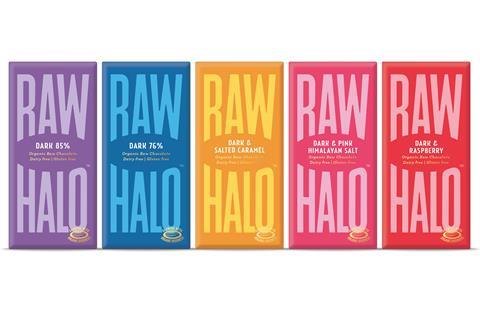 Raw Halo
Launching: August 2019
Not content with its seven existing flavours, London-based Raw Halo is adding four new variants to its range of vegan chocolate (rsp: £1.10/22g, £1.99/35g, £2.99/70g). Dark 85%, Dark & Salted Caramel and Dark & Pink Himalayan Salt will launch exculsively to Waitrose, while Dark & Raspberry will go into the brand's existing stockists, which include Holland & Barrett, Ocado and Whole Foods Market. The new launches in August will coincide with a rebrand and recipe reformulation.