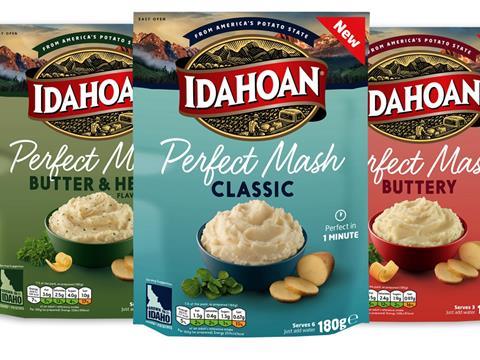 Instant mash giant Smash faces competition this summer with the UK debut of Idahoan, an upmarket US brand that uses exclusive technology for a product promising to be fluffier than its rivals.

The rollout in July will be the conclusion of nearly two years' work by Idahoan on NPD for British tastes: the new products are less salty and have subtler flavour profiles than their North American counterparts. They will initially be available in five variants of Perfect Mash - Classic (rsp: £2/180g), Buttery, Roasted Garlic, Butter & Herb and Cheddar Cheese (rsp: £1.50/109g) - along with Gratin and Dauphinoise oven bakes (rsp: £2.30/140g).

All are made in Idahoan's facility in Idaho Falls, an area claimed to be ideal for growing high-quality potatoes. They are transformed into mash using a proprietary dehydration system, which extracts water without damaging cells and releasing starch, avoiding the 'stickiness' of similar products. Idahoan's quality was a point of difference in a category that had fallen out of favour in the UK, said Deane Ingram, brand director at Euro Food Brands, which will distribute the range in the UK. "Consumers can't tell the difference from fresh mash."

The new products will enter a declining British instant mash market dominated by Premier Foods' Smash and down 9% in supermarket sales to £8.2m [IRI 52 w/e 25 February 2017]. They will be supported later in the year with a campaign featuring the strapline "ingredients matter".

Idahoan was launched in 1960 to make use of a surfeit of potatoes in Idaho, and had since developed "into something quite special", said Ingram. It dominates its homeland's instant potato market worth $460m, with the brand's value at around $253m and still "growing fast", according to Ingram.