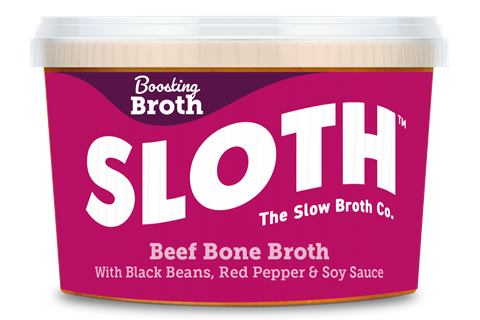 A team of fmcg heavyweights have teamed up to launch what they claim is the UK's first mass-market bone broth brand.
Called Sloth: The Slow Broth Co, the NPD is the brainchild of former New Covent Garden MD Nigel Parrott, soup brand Watmuff & Beckett founder Andrew Watmuff, and former Dragons' Den star Nick Jenkins.
The brand will debut in the spring with a nine-strong lineup of single-serve SKUs: Chicken Bone Broth, Beef Bone Broth, Chicken, Coconut & Wild Rice Soup and Smoky Chorizo & Butternut Squash Risotto (370g-450g, rsp: £2.40-£3).
The range was "rich in amino acids, minerals and protein, containing up to 2.3g collagen per serving", said the brand.
Shopper interest in bone broth, particularly in the US "has been huge, but it takes a lot of time and love to craft an excellent bone broth, and we're yet to see a retail-friendly solution at accessible, everyday prices", said Watmuff.
"During the R&D phase, millennial participants told us that current soup fixtures lacked variety. They wanted a wider range of lunch options to meet different need states."