Forget the chocolates, strawberries and champagne. When it comes to food and drink, there are plenty more adventurous options to try this Valentine's Day. From aphrodisiac chewing gum to ice cream roses, here are some of our favourites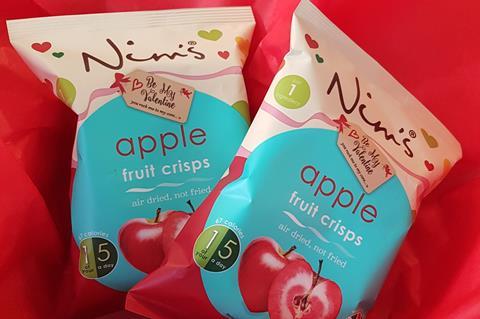 Nim's Apple Fruit Crisps
Made with appropriately named Redlove apples, these air-dried fruit crisps are crimson in colour with a "sweet and tangy" taste. They are available from Tesco in individual bags (rsp: £1.15/20g) and as a two-pack gift box for couples to share (rsp: £3.95).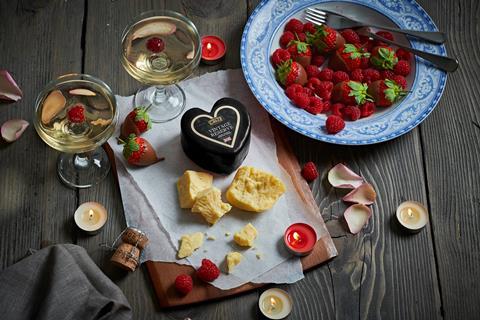 Wyke Farms Vintage Reserve Cheddar
This is a product for shoppers who like their Valentine's Day cheesy – and we're not talking about soppy cards and flowers. Wyke Farms' heart-shaped truckle of Vintage Reserve Cheddar (rsp: £3/100g) is available exclusively from its website.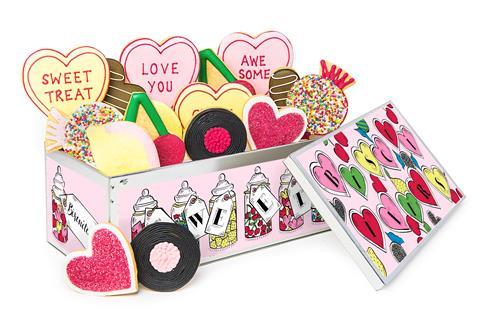 Biscuiteers Love is Sweet Luxe Biscuit Tin
At first glance, this looks like a tin of oversized retro sweets. But look again and you'll see the liquorice allsorts, Love Hearts and sherbet lemons have been recreated in biscuit form. The selection (rsp: £45) is part of the Biscuiteers Valentine's range, which also features biscuit bumblebees and a gingerbread Mr Darcy. Sweet.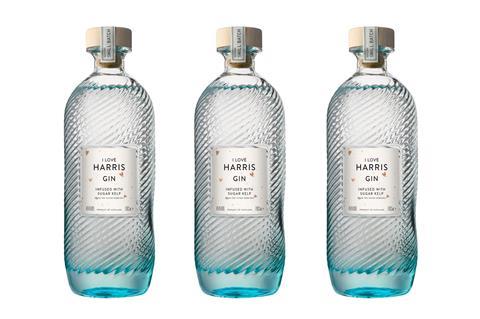 I Love Harris Gin
Distilled in the Outer Hebrides with hand-harvested sugar kelp and presented in an ornate bottle, Isle of Harris's small batch gin is already a gift-worthy spirit. Now the tipple has been made even more special for Valentine's Day with a limited-edition 'I Love Harris' label (rsp: £45/70cl).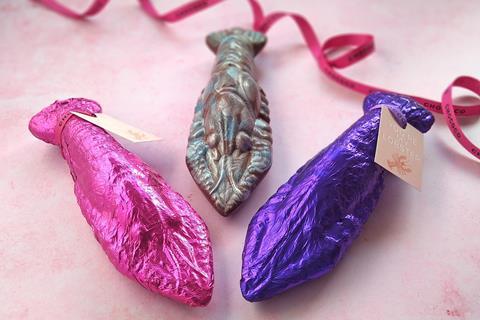 Chococo Foiled Chocolate Lobsters
It was Phoebe Buffay from Friends that said: "It's a known fact that lobsters fall in love and mate for life." The truth of this may be in dispute, but Dorset chocolatier Chococo has certainly run with the idea. The company is offering the foil-wrapped crustaceans in both milk and dark chocolate, complete with a tag reading 'you're my lobster' (rsp: £10/125g).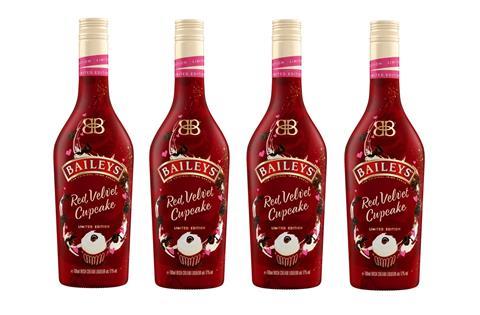 Baileys Red Velvet Cupcake
With its deep red colour and loveheart-laden design, this could be Baileys' most romantic bottle yet. The drink itself has a creamy pink hue and tastes "like fresh chocolate cake with a dollop of cream cheese frosting", according to the brand. The limited-edition flavour is available now from Asda (rsp: £16/700ml).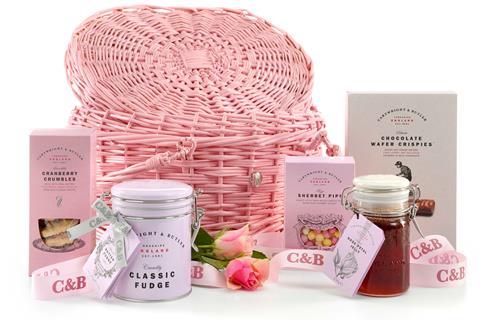 Cartwright & Butler Just for You Hamper
Known for its range of luxury biscuits, sweets and teatime treats, Cartwright & Butler has brought together some of its prettiest pink products for this romantic hamper (rsp: £40). It features items such as Rose Petal Jelly, Sherbet Pips and Classic Fudge, all packaged in a heart-shaped wicker basket.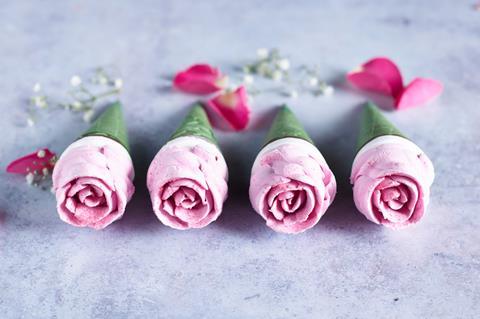 Co-op Strawberry Rose Cones
Unlike most Valentine's flowers, these ones will be found in the frozen aisle. Co-op's pink roses are made of strawberry ice cream, complete with a swirl of strawberry sauce and a green wafer cone (rsp: £2/4x130ml).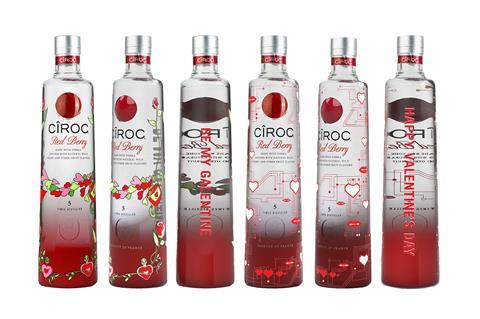 Cîroc Red Berry
February 14 is no longer just for couples, as more and more groups of single friends choose to celebrate Galentine's Day instead. Cîroc is marking the occasion with a limited-edition Galentine's bottle of its Red Berry vodka, while for the lovebirds there's also a 'Happy Valentine's Day' version. Both bottles are available from spirits personalisation service Inkd, where customers can add a bespoke message for their special someone (rsp: £35/70cl).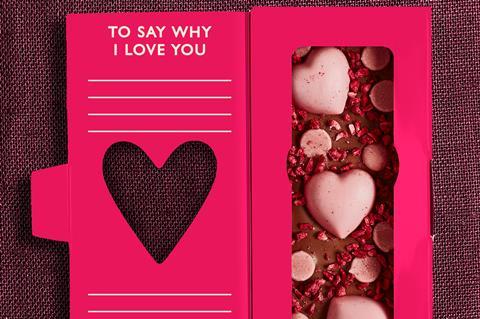 Waitrose Cupid's Chocolate Bar
Waitrose shoppers can bring out their inner Cupid by gifting this treat to their loved one. The milk chocolate bar (rsp: £2.50/70g) is flavoured with Himalayan pink salt, dried raspberry, strawberry Champage hearts and ruby chocolate, and the box features space for a personalised message.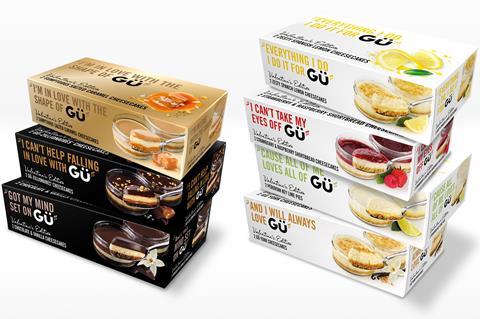 Gü Valentine's Edition
Gü has given its packaging a musical makeover for Valentine's Day this year. For each box of its indulgent desserts (rsp: £3.30), the brand has put a twist on a lyric from a popular love song.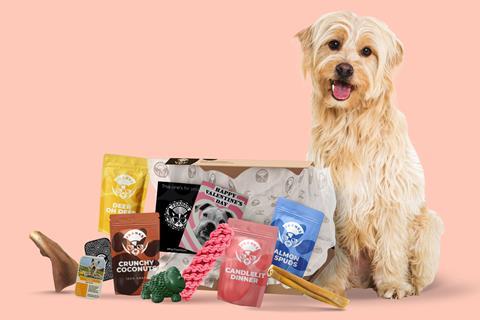 Snack at Franks Love Edition
Dogs are known for their unconditional love, so why not celebrate this on Valentine's Day? Subscription service Snack at Franks is offering a Love Edition box (rsp: £22.79) filled with treats, toys and a natural dogfood called Candlelit Dinner. This is made with "the finest chicken, beef and vegetables", meaning owners can match the ingredients of their own dinner with their pet's. The box is even complete with a personalised Valentine's card.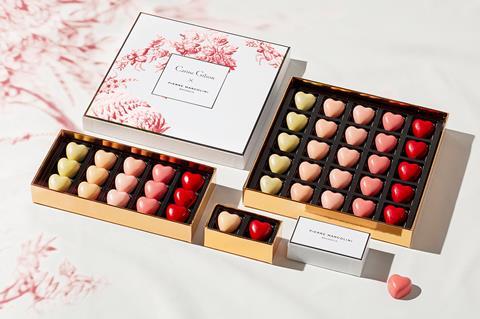 Pierre Marcolini x Carine Gilson
Chocolate, but make it fashion. Luxury chocolatier Pierre Marcolini has teamed up with designer Carin Gilson for this year's Valentine's collection. It features boxes of Les Coeurs heart-shaped chocolates in varying sizes (rsp: £4-£39) as well as macarons and a dark chocolate heart filled with hazelnut praline and gianduja.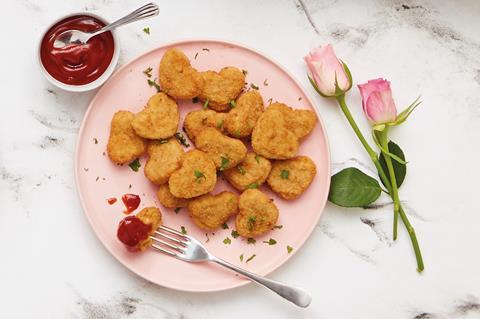 Aldi Chicken Love Nuggets
We've had heart-shaped burgers from Tesco and the infamous M&S Love Sausage. Now this Valentine's Day it's the turn of Aldi's Chicken Love Nuggets (rsp: £1.99/pack of 20). Shoppers can find them in Aldi stores from 11 February until stocks last.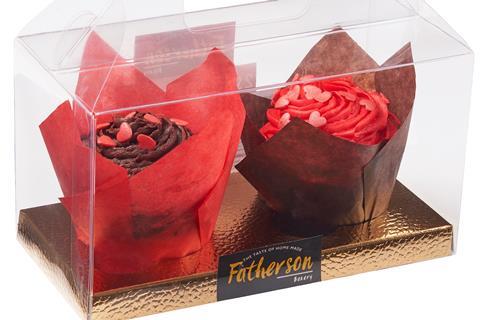 Fatherson Bakery Cupcakes
Warwickshire-based bakery Fatherson is spreading the love to Co-op, Spar and Budgens stores with these Valentine's Cupcakes (rsp: £4/pack of two). The iced vanilla and chocolate treats will be joined on shelves by a heart-shaped chocolate sharing cake (rsp: £5) from early February.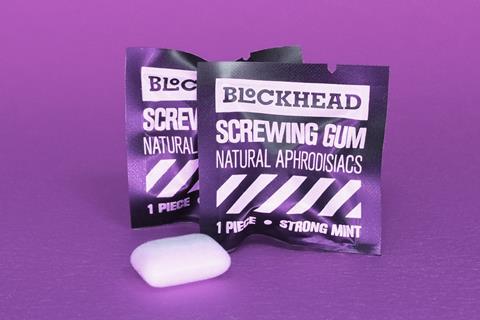 Blockhead Screwing Gum
Does this packaging look familiar? Aptly, it contains a piece of "the world's first aphrodisiac gum", created by functional confectionery brand Blockhead. Dubbed Screwing Gum, it is made with libido-boosting ingredients such as damiana and maca and flavoured with breath-freshening peppermint (rsp: £1). It'll launch on the brand's website in February.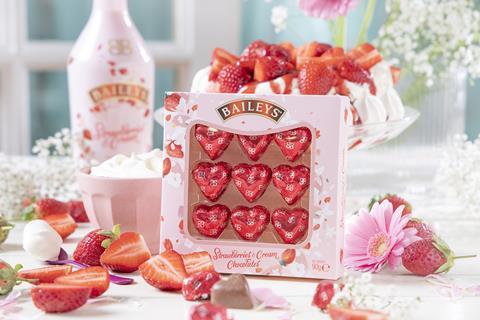 Baileys Strawberries & Cream Valentine's Hearts
Lir Chocolates is extending its Baileys brand with a fruity new addition. Available at Asda, these foil-wrapped hearts (rsp: £4.50/90g) have a milk chocolate shell and truffle centre flavoured with Baileys Strawberries & Cream liqueur.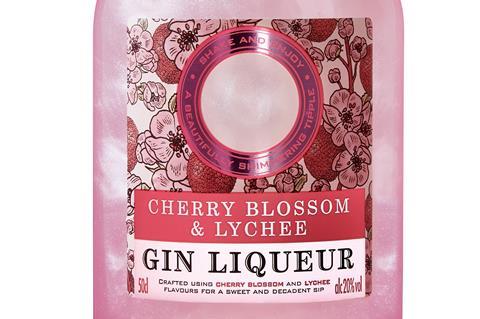 Asda Cherry Blossom & Lychee Gin Liqueur
Asda has been inspired by the colours and flavours of Japan for this blushing pink tipple, which joins the retailer's Extra Special range until March. The "floral and fruity" gin liqueur (rsp: £10/50cl) is best enjoyed on its own or added to prosecco, says Asda.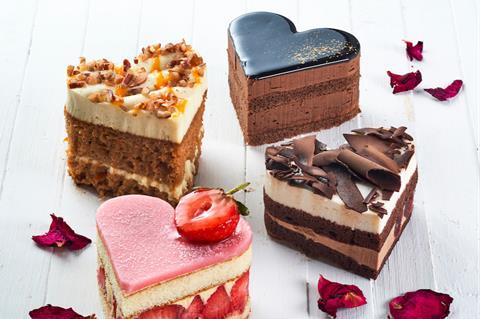 Paul Sweethearts
From 4 to 16 February, some of Paul's most popular cakes are getting a romantic makeover. The bakery chain will launch heart-shaped Sweethearts (rsp: £5.25 or £10 for two) in four flavours: Forêt Noire St Valentin (black forest), Craquant St Valentin (dark chocolate mousse), Fraisier St Valentin (strawberry & marzipan) and the new Carotte St Valentin (carrot cake).