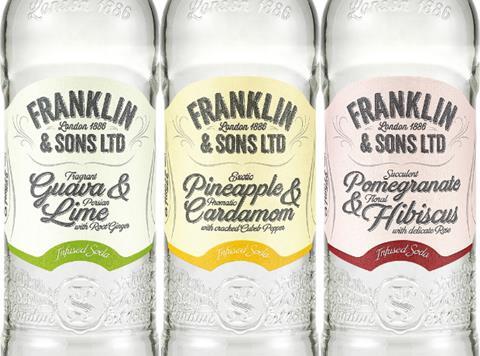 Posh mixers brand Franklin & Sons has added Infused Soda, a premium range of soft drinks that take "inspiration from distillers and their focus on beautiful flavour infusions and expressions".
Designed to tap the non-alcohol trend, three variants – Fragrant Guava & Persian Lime with Root Ginger; Exotic Pineapple & Aromatic Cardamom with Cracked Cubeb Pepper; and Succulent Pomegranate & Floral Hibiscus with Delicate Rose (rsp: TBC/275ml) – are rolling into Tesco.
With 4.2g of sugar per 100ml, they fall below the soft drinks levy and contain 18 calories per 100ml.
The new trio provided the "the same complex taste and flavour profiles of a cocktail serve – but without the alcohol content" Franklin & Sons said.
The launch came in response to one in five young adults choosing not to drink alcohol, the brand added, with 73% of millennials limiting the amount of alcohol they drink on a night out .
While "mindful drinking" was increasingly popular, there were "very few options for those who want the premium, alcohol-free experience" said Jen Draper, head of marketing at Franklin & Sons. "Why should non-drinkers miss out?"
Infused Soda's flavours were "complex enough to suit refined palates, ensuring they provide the taste experience that discerning cocktail consumers demand" she added.