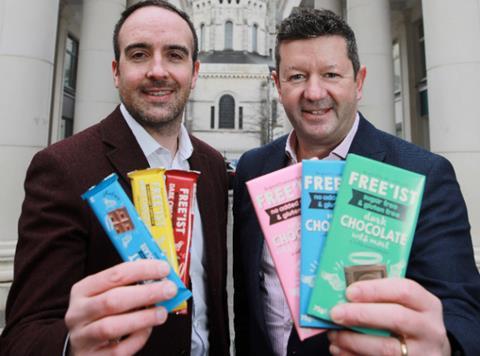 Belfast's Free'ist has invested £250,000 in an effort to ramp up the UK presence of its sugar-free and no added sugar snacks.
Despite being based in Northern Ireland, the majority of Free'ist's distribution is in the Republic, though the brand does have some UK listings for its portfolio of healthier biscuits, confectionery and popcorn – which contain between 209 and 504 calories per 100g.
The brand has committed to new products, a packaging overhaul and additional staff to drive the business in grocery. Its latest NPD is a 30g chocolate bar (rsp: £1) in milk, white and chocolate variants, with an average of 466kcals per 100g.
They are available with Free'ist's new look and, like all the brand's other snacks, they are sweetened by maltitol, which "doesn't have the unpleasant aftertaste that other sugar substitutes have" said the brand. "Maltitol works well in the manufacturing process compared to other sweeteners."
Free'ist, which launched in 2013, had "ambitious plans throughout 2018 and beyond" said its managing director Gerard McAdorey. "We continue to witness a rise in people seeking out sugar-free snack options by way of choice, rather than other reasons such as an existing medical condition."
The brand's aim was to "provide a diverse range of products which contain no sugar or no added sugar and, most importantly, taste great" McAdorey added.