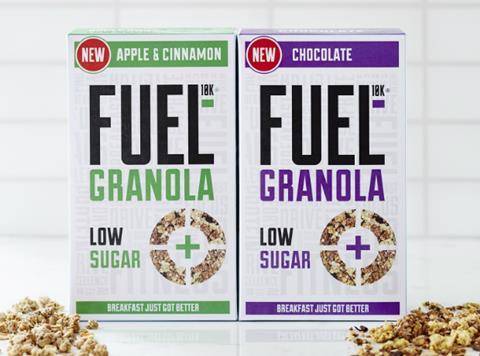 Fresh Marketing has unveiled the first reduced sugar product in its Fuel10K portfolio of breakfast options.
Low Sugar Granola will be available in chocolate and apple & cinnamon, offering 3.8g and 4.8g of sugar per 100g respectively, with both wholegrain products including oligofructose. Rsp is £2.99/400g.
Unlike Fuel10K's other lines, the NPD does not feature a high-protein claim, although the chocolate variant contains 10.8g of protein per 100g and the apple & cinnamon has 9.8g.
Featuring an 'inverted' design – a white background rather than the brand's usual black – the two-strong lineup will appear in Tesco from the end of next month.
The launch came in response to consumer demand for "convenient and nutritionally sound breakfasts" said Scott Chassels, Fuel10K's new MD.
The brand recently secured a raft of new and extra listings across the mults, including additional shelf space in Tesco and Asda. Its regular granola range will be a new arrival in Morrisons from July.
"After a barrage of new granolas arriving about two years ago, it is great to see our brand find more space," Chassels added. "Our shoppers are younger than the average breakfast consumer and they tend to spend more in the category – which has been a key part in these recent wins.