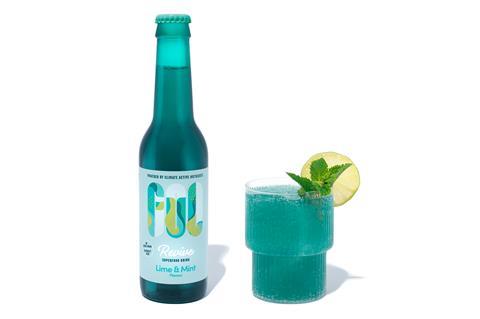 Microalgae challenger brand Ful is bringing a trio of healthy blue soft drinks it claims are 'climate active' to the UK – and plans to eventually begin selling the key ingredient to bigger suppliers in fmcg.
It has launched a trio of drinks, called Revive, online in three flavours: White Peach, Lemon & Ginger and Mint & Lime (rsp: £20.50/6x275ml).
The drinks contain a type of "nutritionally dense" microalgae called spirulina and are low in calories and sugar. Their blue colour comes from phycocyanin, a natural antioxidant found in spirulina.
The drinks, which have already launched in the Netherlands, are claimed to be 'climate active' because the microalgae absorb one and a half to two times their weight in carbon and photosynthesise it, releasing oxygen.
Ful had worked with "leading food and flavour scientists" to transform the spirulina – which "usually tastes and smells unpleasant" – into a "tasty water-soluble, unapologetically blue superfood", it said.
This had been the "main barrier" for the brand, said CEO Julia Streuli.
Through a "natural biorefinery process", the team was able to take out the "better-tasting nutrients" and blue colour from the spirulina and produce a branded microalgae ingredient, Ful Superfood, which was used in its "craveable" Revive drinks, said Streuli.
The brand's ultimate ambition was to popularise and supply the ingredient to other fmcg businesses, she said, adding huge suppliers like Nestlé "could use the Ful Superfood ingredient to sell their own climate active products in the future".
However, she said the brand would primarily focus on building its brand through the Revive range – as well as expanding its own range into other categories such as snack bars, energy gels and powders – before actively pursuing B2B customers.
"What we eat and drink every day matters and presents an opportunity for us as consumers to make a difference," said Streuli.
In the coming months Streuli said she hoped to see the Revive drinks sold at various fitness studios, restaurants and retailers across the UK that focused on health and sustainability.
The launch comes as Ful was recently awarded a grant by the Dutch government after it proposed a fully circular production process, which would see it make use of waste carbon from breweries.