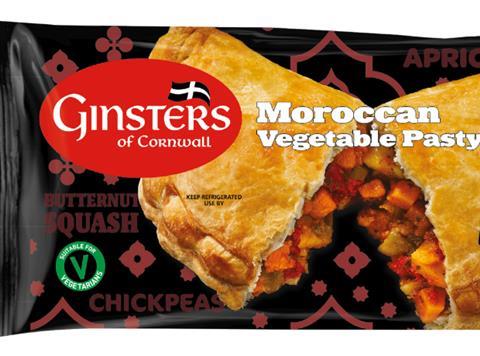 Ginsters has moved to tap demand for heathier eating by unveiling two lower-cal slices and expanding its vegetarian options.
The Cornish brand has added two filled pastry snacks (rsp: £1.70/150g) with less than 375 calories per serving. Available from 9 April, Katsu Chicken Slice contains 247kcals per 100g while Piri Piri Chicken Slice has 233kcals. By comparison, Ginsters' Spicy Chicken Slice has 293kcals per 100g, and its Chicken & Mushroom Slice is 280kcal – and both are 170g, meaning more calories per serving.
Consumers wanted "healthy options that still deliver maximum taste and flavour, and we're determined to respond" said Ginsters managing director Kieran Hemsworth.
Also set to roll out next week are Moroccan Vegetable Pasty and Cornish Cheddar & Caramelised Onion Pasty (rsp: £1.70/180g). They came to satisfy "demand from over a third of food-to-go shoppers who want to see an expanded range of vegetarian products" said Ginsters.
Hemsworth added: "We wanted to create something that is perfect for a flexitarian and vegetarian diet, with the reassurance of quality British vegetables and our Cornish provenance."