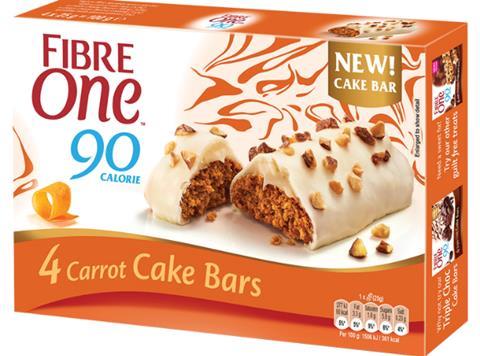 General Mills is ramping up its snack bar portfolio with extensions to the Fibre One and Nature Valley brands.
Fibre One this week added a "guilt-free" Cake Bars range in Triple Choc and Carrot Cake (rsp: £2.89/4x25g). As with the rest of the brand's snacks, they offer 90 calories per portion (360kcals per 100g). They also provided "at least 30% more fibre, 30% less fat and 30% less sugar than the average cake bar in the UK", according to General Mills.
The new bars would tap "a new evening occasion, where consumers are looking for more indulgent options while not compromising their diet", the supplier added. They follow the June launch of Fibre One's Popcorn Bars lineup.
The brand will return to TV in September in a £700K campaign.
In the same month, Nature Valley will expand to its Nut Butter selection with a Cocoa Hazelnut oat bar (rsp: £2.89/4x38g) and two variants for the Nut Butter Cups sub-range: Peanut Chocolate and Almond (rsp: £2.89/4x35g).
Nut Butter will be backed for five weeks from 25 October by an £800k TV push. The month will also see the lineup's first singles: a peanut butter bar and a peanut butter cup (rsp: 85p).