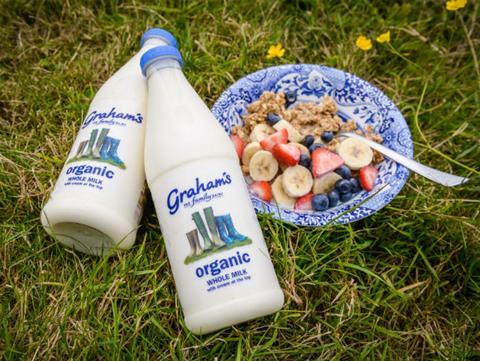 Graham's the Family Dairy is tapping into the 'natural' trend with the launch of an unhomogenised organic whole milk.
Available now in Waitrose stores nationwide (RSP: £1.10/1 litre), Graham's Organic Whole Milk comes from organic cows grazed on pastures across Scotland, and has a creamy top "reminiscent of traditional milk float deliveries".
Packaged in a clear plastic PET bottle similar to Graham's Gold Top milk range, it was developed in response to customer demand for a product "as close to natural milk as possible", the company said.
"This milk is a delicious alternative to other milk on the market, especially for those who are looking for an option that provides all the goodness of organic dairy, with the added bonus of cream on the top," added MD Robert Graham.

"Some customers are telling us that they want a product close to natural whole milk, for the taste, for their families and for all the health benefits that organic produce brings. It is wonderful to be able to respond to this demand with a product that goes back to basics."

Homogenisation breaks down the fat molecules in milk to give a consistent texture and stop separation. When milk is left unhomogenised, the fat molecules rise to the top to form a cream.

Waitrose was already selling an unhomogenised whole organic milk under its own-label Duchy brand.