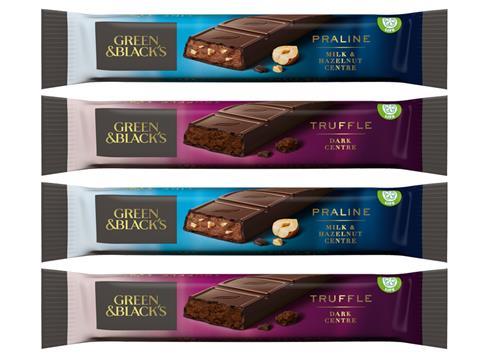 Green & Black's is to launch the first single bars in its 27-year history, in an effort to encourage shoppers to trade up on impulse treats.
Two premium variants will be available from early August: Green & Black's Truffle (38.5g), dark chocolate truffle in a dark chocolate shell, and Green & Black's Praline (37g), milk chocolate praline with roasted hazelnut pieces in a dark chocolate shell (rsp: 89p).
The NPD, which follows the May 2018 launch of the brand's first bitesize SKU – Green & Blacks Velvet Fruit – would tap the "growing trend for premium singles" said Green & Black's brand manager, Katrina Davison.
"For retailers, the new products offer an unmissable opportunity to drive impulse sales in store, without diminishing mainstream chocolate sales."
Like other recent Green & Black's NPD, Truffle and Praline are not organic. However, both are sourced under Cocoa Life, the sustainability initiative that owner Mondelez kicked off last summer to spend $400m (£304m) over 10 years for the benefit of cocoa farmers.
The latest Green & Black's bars are set to be joined on shelf by a new look across its core organic range. Its first redesign in 11 years will bring it in line with the brand's recent launches – most notably Velvet Edition, the "velvety", non-organic range added a year ago to broaden the appeal of dark chocolate.
Demand for posh chocolate was "growing fast and bringing in new, higher value shoppers", Mondelez said, while dark choc had enjoyed "consistent growth for the last three years".
Davison added: "Appetite for premium is clear, as Velvet Edition achieved more penetration than any other [high-end chocolate] in the market this year and added 1.18pp incremental penetration to the Green & Black's brand."