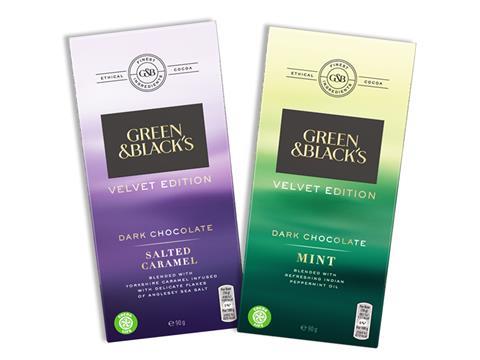 Green & Black's has made the biggest addition to its portfolio in 26 years as it aims to broaden the appeal of dark chocolate.
The new Velvet Edition range comprises seven flavoured variants promising a "velvety finish" to 70% cocoa chocolate, available in bar and gifting pouch formats. Set to be supported by a £4m spend, they marked Green & Black's "first major new range launch" since the brand's founding in 1991, said Glenn Caton, Northern Europe president of owner Mondelez.
The milder flavours, including mint and salted caramel, targeted consumers who were "attracted by the Green & Black's promise of finest ingredients and ethical sourcing" but less enticed by its "complex and strong" taste, he told The Grocer.
Now was the perfect time to tap growing demand for dark chocolate as a healthier option, as consumers sought ethically produced products and premium treats, Caton added.
Available from 7 August, Velvet Edition is not organic like the brand's core range, but it is the first new Mondelez range under the company's Cocoa Life sustainability initiative – a $400m (£302m) spend over 10 years expected to benefit about 200,000 cocoa farmers within the next three years, mostly in West Africa. It is to replace Fairtrade across Mondelez chocolate lines including the Cadbury portfolio.
"We're really proud of Cocoa Life as a programme," said Caton. However, the company would need to build awareness. "We're on a journey to show what Cocoa Life is and how it benefits communities."
The scheme would feature in Velvet Edition's messaging, though taste would be the focus, Caton added. Other Green & Black's lines would retain their Fairtrade credentials.