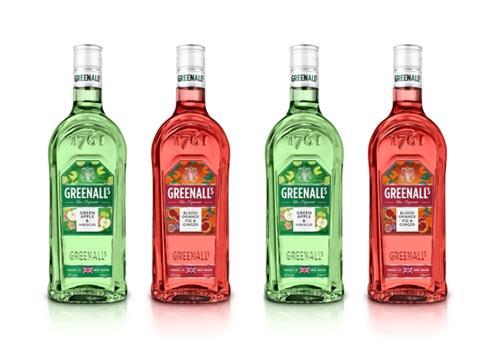 Greenall's Gin has added two new flavoured gin liqueurs.
The Quintessential Brands-owned gin has launched two 20% abv tipples in Green Apple and Blood Orange flavours. They hit travel retail this week and will launch into the UK domestic market in August (rsp: £18.50/500ml).
Green Apple is "balanced with the sweet-sour tanginess of hibiscus" while Blood Orange is "cut with the luscious sweetness from fig and the zesty spiciness of ginger", said the brand, with "classic Greenall's gin notes coming through in the finish."
Greenall's had opted for smaller 50cl bottles rather than the traditional 70cl in order to "appeal to new gin drinkers and encourage established gin drinkers to consider branching out", it said. "The bottles use coloured glass to evoke the colours of the dominant fruits used in these two variants."
It comes after an increasing number of gin brands have moved into liqueurs over the past year, such as Pinkster, which launched its range of Hedgepig liqueurs late last year, and Lidl's own-label Hortus gin, which gained two pink liqueurs ahead of Christmas.