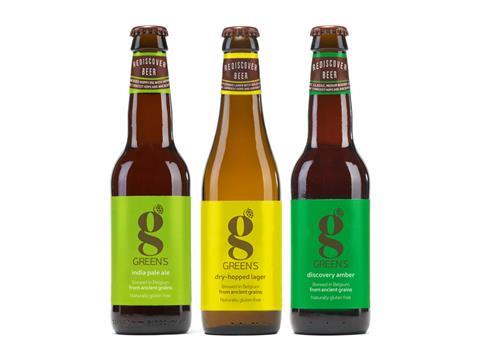 Gluten-free brewer Green's has given its portfolio an 'ancient grains' overhaul, marking the first relaunch in its 13-year history, set to be followed by a host of NPD as part of a new strategy to secure listings with the mults.

The Belgian brewer is next week revealing a new look, firmly focused on the beer brand's "natural gluten-free" credentials, designed to attract the attention of the main supermarkets and widen the brand's appeal to "health-conscious mainstream consumers".

The makeover, referred to by Green's as a "major development" for the brand, would pave the way for NPD set to be launched during 2017, MD David Ware told The Grocer, adding that supermarket beer aisles currently failed to offer the variety demanded by today's "food savvy and long-term health-aware" shoppers.

Three "completely new" brews would be revealed at the beginning of next year, while two of the brand's US bestsellers would be brought across the pond, he said.

Details of the NPD, which will join Green's relaunched Dry Hopped Ale, India Pale Ale and Discovery Amber - made with sorghum, millet, buckwheat and brown rice husks - were still under wraps, but all the beers would be based on ancient grains - a key focus for the brand, said Ware, with the aim of introducing "different beer styles and experimenting with "other grains".

Green's had been working with experts on developing ancient grain recipes embracing current beer trends, such as lighter styles, fruit and sour beers, in a bid to "break new ground".

"It's all about widening choice to experimental drinkers and drive incremental," said Ware, adding a "significant" investment had been put behind the overhaul, which will be supported with the brand's biggest push to date.