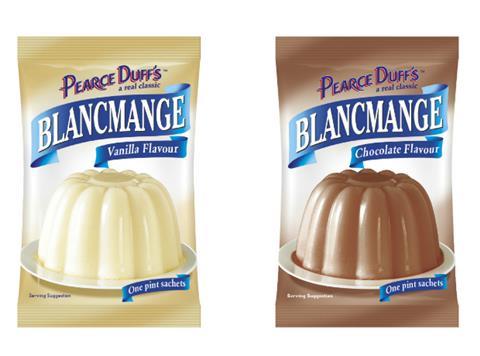 Rotherham baking brand Green's is aiming to make a classic dessert more convenient with the launch of what it claims is the first ever single-serve sachet of blancmange mix.
Three variants of Pearce Duff's Blancmange – vanilla, strawberry and chocolate – are rolling out now to Morrisons in a 35g pack (rsp: 35p).
The new trio offered shopper "a nostalgic product that is fun and easy to make", said Green's. "All customers need to do is add milk to the contents of the sachet, bring to the boil, pour the mix into a mould, and then let it set for at least three hours."
Green's larger format blancmange mix had been "one of our bestsellers for many years, and we are delighted to be offering our customers single sachets of their favourite flavours now".
Blancmange has its origins in the Middle Ages, when it was thought to have restorative qualities. While it was common in the UK in the latter half of the 20th century, the jelly-like dessert now makes significantly fewer appearances on menus.