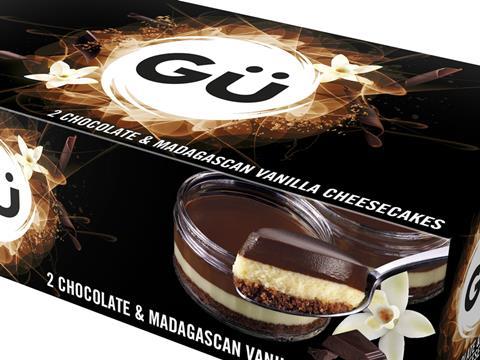 Gü is preparing to enter the food-to-go category as part of a brand overhaul intended to reposition the premium puds portfolio as a 'permissible pleasure' - more than just an 'occasional treat'.

A new four-strong range of 50g pots with a spoon attached to the lid is set to hit shelves in September. Variants will be Silky Salted Caramel & Chocolate Ganache, Velvety Blackcurrant & Violet Posset with a Raspberry Compote, Exotic Passion Fruit Posset with a Passion Fruit Curd, and Sea-Salted Caramel Ganache (rsp: £1.20).

Gü is also revamping the packaging across its 29-strong portfolio, with new designs illustrating the "taste and textures of each individual product" set to roll out from 13 April.

Pitched as the "ideal treat fitting perfectly into busy schedules", the new pots would tap rising demand for "everyday permissible pleasures", something Gü was keen to focus on in the future, said UK marketing director Chris Heyn.

"We want to ensure we are continuing to raise the bar within the category through revitalising a cornerstone of the dessert market, providing consumers with high-quality products that fit seamlessly into their lives," he said, adding the NPD had received an "incredible response" from buyers.

The brand is supporting the repositioning with a £1m TV campaign kicking off in the autumn - its first for three years.

Gü sales were up 4.7% to £29.6m in a yoghurts & potted desserts category down 0.9% on volumes down 1% [Nielsen 52 w/e 10 October 2015].