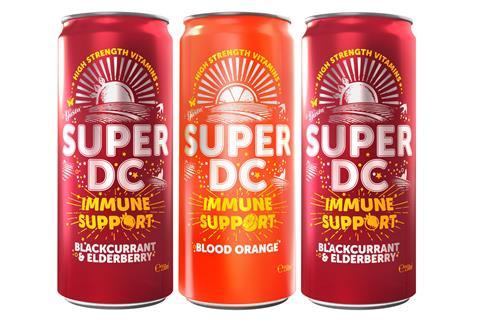 Soft drinks brand Gusto is to launch a duo of vitamin-boosted drinks that it claims provide immunity support.
The drinks, called Super DC, will launch in two flavours – Blackcurrant & Elderberry and Blood Orange (rsp: £1.99/250ml).
They each contain a hefty dose of vitamins C and D, making them a "drink with the opportunity to support the immune system", said Gusto CEO William Fugard.
Per 250ml can, they contain 2,000mg vitamin C, which Fugard described as "like four Beroccas" and 200% of a persons recommended daily intake of vitamin D.
They also contain zinc, folic acid, vitamin A and vitamin K.
Despite the high vitamin content, Fugard stressed the drinks were "a flavour first product", with no artificial sweeteners or preservatives.
Fugard billed the range "a product of the pandemic", with the development of the drinks from concept to completion all taking place since the UK went into lockdown in March.
He said Gusto had been planning to launch a range of mixer cans designed for hospitality earlier in the year, but recognised quickly that "we needed to pivot and be agile".
The Super DC duo will launch next month at Amazon and Holland & Barrett.