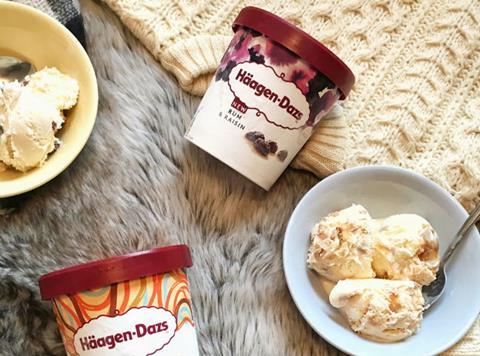 Häagen-Dazs has reintroduced Rum Raisin and launched a new Salted Caramel Cheesecake to tap into demand for rich, indulgent flavours as the nights turn colder.

The new Salted Caramel Cheesecake is available in all major multiples, while Rum Raisin is available in Tesco and Ocado (rsp: £5.35/500mll).

Rum Raisin, originally launched in the 1980s, is made using whole raisins from California that have been soaked in Club Caribe Rum for 42 days to provide a "rich, flavourful experience infused with just the right hint of warmth".

Salted Caramel Cheesecake is an "indulgent remake of a US classic" featuring American Graham cracker crust and a gooey salted caramel sauce.

"We are excited to be launching our seasonal editions that tie in perfectly with the autumn-winter occasion as well as meet the ever-demanding British taste palate," said Arjoon Bose, UK and Northern Europe marketing head for Häagen-Dazs.

"Rum Raisin is one of our global cult classics and we're sure its reintroduction will be popular among Häagen-Dazs fans. Salted Caramel Cheesecake is a marriage between two moreish flavours - the former being a major culinary trend of recent years - and we are excited to reveal this exciting innovation to consumers and shoppers tapping into 'big night in' occasions as winter approaches."

Value sales of luxury ice creams rose 4.1% last year, ahead of the total ice cream category, up 2.6%. Häagen-Dazs outpaced both, with value sales up 11.8% year on year [Nielsen MAT 31 December 2016].