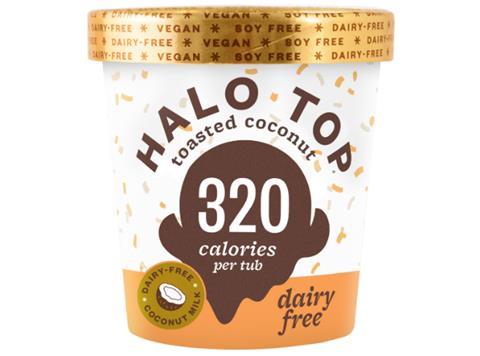 Lower-calorie ice cream brand Halo Top has added its first dairy-free variants for the UK market.
Toasted Coconut, Peanut Butter Cup and Sea Salt Caramel (rsp: £5/473ml) have joined the US grocery sensation's lineup, landing now in Tesco freezers and set to be available from Ocado in September.
The vegan-friendly threesome is made with coconut milk and contains 320 calories per tub (68kcal per 100ml). Toasted Coconut is a free-from exclusive, while Peanut Butter Cup and Sea Salt Caramel are also available as flavours in Halo Top's regular range.
The new trio joins the brand's 10 other variants, the most recent of which – Birthday Cake, Red Velvet and Oatmeal Cookie – were introduced in mid-July, six months after the brand made its UK debut.
"It's incredible to have the opportunity to launch our non-dairy line in the UK so soon after launching our dairy line, which is a true testament to the response from our UK fans," said Doug Bouton, Halo Top president & COO.
"It's exciting to think that we can now reach an entirely new UK consumer, and we can't wait to expand our non-dairy and vegan range in the future."
Halo Top was launched in California in 2011 by former lawyer Justin Woolverton, becoming US grocery's top-selling ice cream last year. All variants are high in protein and contain between 280 and 360 calories per tub.
The brand imports ice cream directly from the US to supply the UK. However, it told The Grocer in February it was looking into the potential for production this side of the Atlantic following a "wildly successful" British debut.