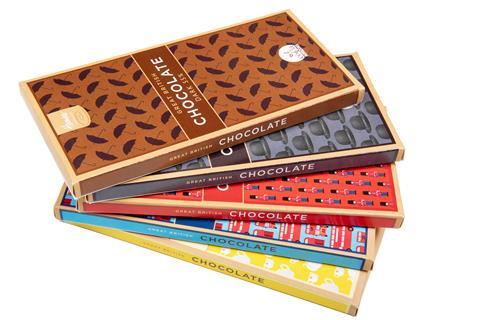 Hames Chocolate is to launch a range of chocolate bars built with the "British palate in mind".
The confectionery supplier will roll out the four-strong British Chocolate range – available in milk, white, dark and 71% dark – from February (rsp: £2/65g, £2.25/94g).
The bars are manufactured at the company's Lincolnshire factory with sustainably grown cocoa and milk from British cows.
The 71% dark bar is billed as having "intense cocoa flavours with a smooth, rounded finish", while 55% dark was "well-balanced, smooth, yet bittersweet", said the brand.
"Our insights show that British consumers prefer their chocolate to have a light caramel taste and a creamy mouthfeel," said Hames director Carol Oldbury.
Alongside the new range, Hames produces truffles, filled chocolates, Easter eggs and own-label confectionery.