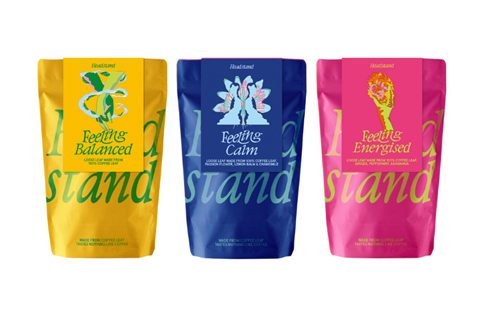 Drinks startup Headstand has added a three-strong range of loose leaf coffee infusions to its roster.
The brand – which made its UK debut with a Yuzu & Ginger flavoured coffee leaf seltzer last year – is targeting posh tea drinkers with its latest innovation.
Founder Josh Tarlo told The Grocer growing interest in herbal tea presented an opportunity for Headstand's caffeine-free coffee leaf-based products, which are the first of their kind to launch in the UK.
"I drink a lot of loose leaf and herbal teas, and there hasn't been too much new into that market in a long time," he said. "A lot of folks are coming into the space and consuming it but they're seeing the same old products on the market.
"We think that there's a lot of opportunity in giving them something new."
The trio, which will launch online via Headstand's DTC platform before rolling out to cafés, speciality coffee shops and high-end grocery, would offer "a moment of relaxation or reconnection" to consumers, Tarlo added.
The range comprises a 'Balanced' infusion of coffee leaf on its own, a 'Calm' variant mixed with lemon balm, chamomile and passion flower, and an 'Energised' blend featuring ashwagandha, peppermint and ginger.
They have an rsp of £15 per 100g bag, which is enough to make around 25 infusions.
The coffee leaf used in Headstand's products is grown in the mountains of El Salvador and would ordinarily go to waste. Headspace buys the leaves from coffee farmers, helping to boost their income. It also donates 1% of its revenue to charities tackling the climate crisis.
"Everything we're doing is about trying to make drinks that are good for people, the planet and producers," Tarlo added.
He said the initial focus of Headstand's loose leaf range would be on cafés and on-trade outlets to "build relationships" with consumers. The brand is seeking to grow awareness of the benefits of loose leaf coffee, which it says has anti-inflammatory properties.
"Cafés and high-end grocery are really exploratory environments where a lot of people go to try something new and experiment," he said. "And so we really see that as the first step in building that relationship with consumers that will then take us to larger grocery store environments."
Tarlo added the long-term goal was to build Headstand's seltzer – which is stocked in 150 outlets including Selfridges – to the same level of "ubiquity and use awareness" as kombucha, while taking share from black and herbal teas with its infusions range.
Loose leaf tea remains a tiny fraction of the UK's £702m tea category, with sales of £20.8m [NIQ 52 w/e 14 May 2023].
However, speciality black, loose leaves, decaf, fruit, herbal, green and other teas now hold a majority share of the wider tea market for the first time, and are worth a combined £345.5m.