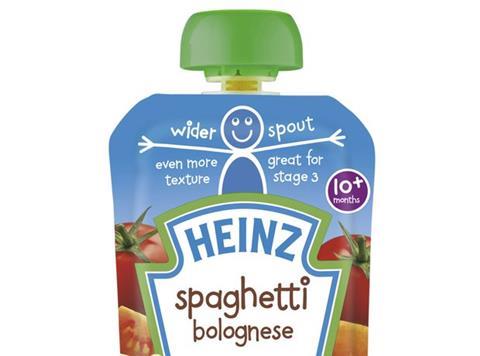 Heinz Baby has launched the UK's first pouch with a spout for babies aged 10 months-plus.

The range includes three flavours: Paella with Mediterranean Vegetables, Sweet and Sour Chicken and Spaghetti Bolognese, each of which Heinz said was unique to the category. The 180g packs (rsp: £1.79) launched into Asda and Morrisons this week and go into Tesco on 7 February.

The pouches feature a wider spout than standard designs, allowing the mix to contain bigger chunks of food. The wider spouts were first rolled out on the brand's 7+ months products last year, helping to drive a 17% year-on-year sales boost [Nielsen 12 w/e 7 December 2015].

"With 25% of meals consumed out of home there is a demand from parents for easy to use products containing delicious meals, providing the right texture and nutrition for their children at each stage, without compromising on convenience," said brand manager Gaëlle Vernet.

"The pouch format, as we know, is a popular choice and after listening to mums' existing needs, we decided to add the benefit of a wider spout on 7+ months and 10+ months ranges to help parents when they are beginning to wean their children onto bigger, chunkier food."

Overall Heinz Baby has seen sales tumble 13.6% to £39.4m [IRI 52 w/e 28 November 2015]. The baby food category as a whole is resisting the deflation dogging the rest of grocery: sales are up 6.2% to £669m, on volumes up 1.1%.