You are what you eat. If that's true, Britain could be raising a new generation of superheroes, as babyfoods fortified with functional ingredients and containing so called 'superfoods' steal growing share of the market.

Examples abound. Ready meal brand Little Dish is moving into snacks with Go Gos, flax and chia seed biscuits with pea protein (see p59); Ella's Kitchen has expanded its snacks range with its first products for three to five-year-olds, including bars containing flax and oats and fruit & veg smoothies; Aptamil claims its latest formula milk is fortified with the highest levels of omega-3 in the UK.

It's not just what's being put into babyfood that's of interest. It's what's coming out, and most brands are looking to reduce sugar. Kiddylicious is touting its wafers as a lower-sugar alternative to rusks; Bear claims its new Claws snacks have the lowest sugar content in the fruit snacks market; Cow & Gate says 90% of its products are now no added sugar.

Crucially, parents will pay more for food they perceive to be healthier. Sales of babyfood have inched up 0.9% on volumes down 4.6% [Kantar Worldpanel 52 w/e 11 October 2015], helping to offset deflation in other key baby sectors such as wipes and nappies. Still, the overall babycare sector has declined 1.9% to just shy of £1.5bn on volumes down 2.5% in the past year. So how can it recover?

One thing is for sure: sugar is a big deal for parents. Just look at the dwindling 'juices for babies' market for proof; sales have plummeted by almost a fifth to just £6.1m in the past year [Nielsen 52 w/e 10 October 2015] as retailers have scaled back shelf space. The response from brands has been varied: Heinz has launched new products with lower sugar content, while Cow & Gate quit the juices market altogether in 2014.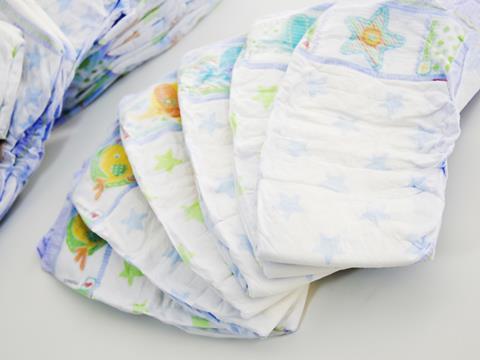 The baby category is declining this year in both spend and packs, despite an increase in buyers from population growth. The key driver of decline is shoppers buying less, particularly babyfood and toiletries.
Healthcare is contributing value growth through slightly higher prices, and also through shoppers buying more through the year.
In the declining baby wipes sector, price increases in 2014 have now reversed, but despite shoppers putting more wipes in their baskets, they are buying less often.
There has been an increase in own-label packs on the market, particularly in baby wipes and babyfood.
The online channel continues to outperform, with value growth of 8% driven by more shoppers buying their baby products online, and returning to this channel more often.
Aldi has grown market share to just over 4% with over £10m coming from more shoppers buying nappies more often in the discounter.
Lauren Feltham, Kantar Worldpanel
Sugar
Of course it's not just the sugar content of juices that's under scrutiny. "Parents are more aware of what is going into babyfood and are becoming more label savvy and reading the back of pack," says Anna Rosier, MD of organic babyfood brand Organix, which has seen sales fall 4.8% on volumes down 7.2% [IRI 52 w/e 28 November 2015]. "A key trend is parents wanting healthier savoury alternatives, and we're looking at increasing our savoury offering to meet this demand."

Brands are also developing more exotic flavours. Ella's Kitchen's range for kids aged one and up includes paella and chicken curry, for example, and newcomer pouched halal purée brand For Aisha, which launched last July and rolls into Tesco this month and Morrisons in February, includes Jamaican jerk chicken and chicken & sweet potato curry.

Tesco certainly seems to think there's an appetite for more adventurous dishes among youngsters. "We're really excited to launch For Aisha for Tesco customers," says Tesco baby buyer Amy Glover. "It's a great forward-thinking brand giving the opportunity to introduce exciting, differentiated flavours from a young age."

Founder Mark Salter, previously a sales manager for kids' chef and babyfood brand Annabel Karmel, says the For Aisha range appeals to parents from a variety of ethnic backgrounds. "We have potential to become a much bigger player in this sector, capturing customer demand from the Muslim parent sector and also by pioneering the use of super-healthy ingredients, which are relevant for all UK parents," says Salter. He adds the brand had also planned to launch a range of fruit purées alongside its savoury offering, but those plans have been put on ice as a result of growing concern over the sugar content of fruit purées.
Kiddylicious Wafers clean up the mess in rusk market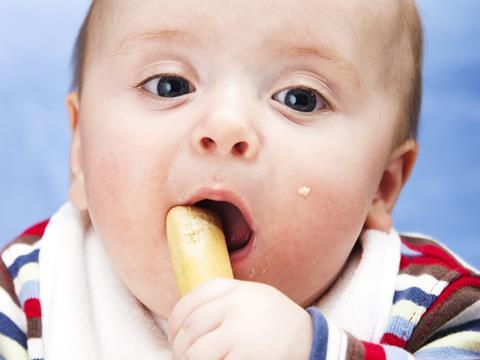 What a mess! British babies might have been chewing on Farley's Rusks since the 1880s, but they're falling from favour fast. Sales have dropped 9.1% to £4.8m on volumes down 2.1% in the past year [IRI 52 w/e 29 November 2015]. Why? And what are parents feeding their teething tots instead?
That rusks can create showers of crumbs when eaten dry and often need chiselling off the highchair when consumed wet is a factor in their continuing decline, claims Sally Preston, MD of healthy babyfood brand Kiddylicious. "Rusks are messy full stop, whether eaten wet or dry, and they result in a sticky, mushy trail," she says.
But there's a bigger factor in rusks' fall from grace: the fact they are 29% sugar. With how much white stuff kids' food contains under growing scrutiny, parents are switching to products that contain less sugar and use grains such as rice, spelt and oats.
Take Kiddylicious Wafers, launched in February 2015 as a less messy, lower-sugar alternative to rusks. "Wafers are more than a rusk," says Preston, who claims the wafers have been a driving force in the brand's market-leading 31.2% growth to £5.4m."In less than a year they have become popular not just for weaning but also as a mainstream snack in their own right. Wafers appeal to mums as something new, finally, in the rusk sector. They offer a taste and texture experience without the mess, and are also gluten-free."
Kiddylicious Banana Wafers contain 11.8g of sugar per 100g. In May 2014, Ella's Kitchen unveiled a new range of snacks including spelt cookies (sugar content: 13.4g/100g) and Organix told The Grocer in December that the brand's baby biscuits, launched in the summer, were helping to reverse falling sales in the wider baby biscuits category.
Farley's had a packaging revamp in October 2014 with key changes including a more retro feel to the brand and greater emphasis on seven key vitamins and minerals including iron and calcium on front of pack.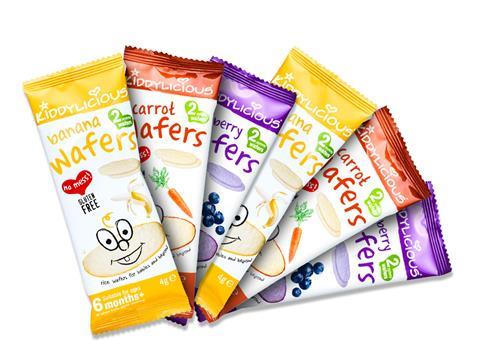 Pouches
Parents don't just care about what's in the food, of course; what the food is packaged in is of growing importance, too. And with time at a premium and on-the-go consumption on the rise, the most successful babyfood brands have adopted convenient pouch formats instead of the traditional jar.

This partly explains the 13.6% decline on volumes down 14.8% [IRI] of Heinz, which is still heavily reliant on the jar format, and is attempting to reverse sliding sales by expanding its range of pouches with a spout. Launched in 2015, Heinz says its stage 2 pouches for babies seven months and up have driven a 17.4% value sales uplift for the brand. It is therefore extending the format to stage 3 weaning with a wider spout to allow for 'bigger chunks', making it the only pouch of its kind for babies of 10 months and older.

There's no doubt hassle-free pouches are a hit with shoppers: kids' yoghurt brand Suckies says its sales are soaring and predicts turnover will increase from £1.1m in 2014/15 to £1.72m in 2015/16 after winning listings in Asda in August 2015.

But Heinz will have to do more than simply put its product into pouches to drive sales. Marketing is, as ever, crucial. Ella's Kitchen has launched its own Weeny Weaning YouTube channel as part of a strategy to move away from a 'campaign' mindset and better engage with weaning parents.

The October launch kicked off with a series of weaning stories from families featured in Channel 4's fly-on-the-wall documentary One Born Every Minute, and the brand says marketing efforts will focus on YouTube for the next three years. "Ella's Kitchen's rate of sale has increased across the board, driven up by successful, targeted marketed campaigns," says Ella's Kitchen MD Mark Cuddigan. Sales are up 13.9% on volumes up 10% [IRI].

Ella's isn't the only one that's spending big on digital content. Hipp Organic says its 4.4% growth on volumes down 4.6% [IRI] is thanks partly to its biggest marketing outlay in a decade, which was spent on growing its online Baby Club, and the launch of the market's first desserts for toddlers aged 15 months and up.

Nappies

The value growth of Ella's and Hipp must seem distant indeed to anyone trying to make a living in the increasingly commoditised nappies market, which has seen the biggest decline of the year, losing £24.2m (5.2%) on volumes down 3.2% [Kantar].

The deflation is being driven by the rise of the discounters and the multiples' price cuts in response. Aldi, whose infant care sales have increased by almost 50% [Kantar], chose the birth of Princess Charlotte in May 2015 to run an advert in the Daily Mail telling readers 'We're celebrating our second too' after winning a Mother & Baby Gold Award for its Mamia nappy range for the second year running. Meanwhile Lidl has added three new lines to its own nappy range and says sales of its nappies are up 9% year on year.

But there's still space for brands, insists Steve Littlewood, marketing manager for personal care at Kimberly-Clark, whose brands include Huggies. "The rate and level of change in the baby category over the past year has been unprecedented. The common feature of the retailers that have performed the best in this environment are those that have maintained a focus on frequent high quality branded feature, especially baby events, which help to disrupt shoppers and maintain them within that store."

After exiting the nappies market in 2012, Huggies is focusing on higher value products, with NPD in 2015 including the launch of Baby Dry Pants and Style on the Go baby wipe pouches. "Price alone is not the way in which retailers are likely to succeed," says Littlewood. "Opportunity lies in building on price by delivering a differentiated proposition that provides value for baby shoppers through enhanced experience and choice - areas that brands play a critical role in."

Just look at babymilk formula market leader Aptamil's performance for proof of this: sales have soared 17.6% on volumes up 13% [IRI], delivering growth of £33.7m, the greatest gain of any brand. This is partly down to its efforts to answer parents' nutritional concerns. "Parents lack confidence in the food category," says Kathrine Colin, head of category development at Aptamil owner Danone Nutricia. "The category needs to educate parents on the tailored high-quality nutrition manufactured foods provide."

See Aptamil's latest launch (right) for how the brand is looking to maintain its growth. The product's high levels of DHA Omega-3 might not be enough to develop a super-baby, but in this nutrition-conscious climate it could super-power sales.
Ella's Kitchen Banana Baby Rice

Launched: February 2016 
Manufacturer: Ella's Kitchen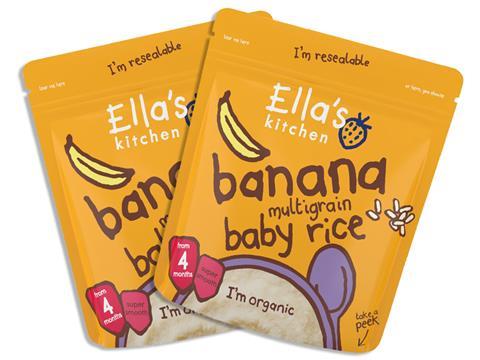 Ella's Kitchen is building on a year of double-digit value and volume growth by relaunching its cereals range with four new products in a new resealable pack format. Banana and carrot-flavoured multigrain baby rice (rsp: £2.30/125g), strawberry & raspberry porridge (rsp: £2.50/175g) and banana & cinnamon muesli (rsp: £2.70/175g) are joining the existing line-up in a new resealable pack format. Aimed at babies from four, seven and 10 months respectively.

Aptamil Profutura

Launched: January 2016 

Manufacturer: Danone Nutricia Early Life Nutrition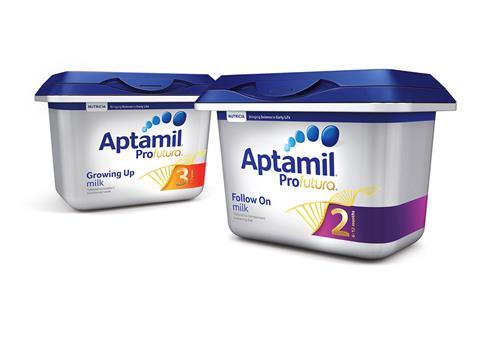 Aptamil's new range of premium formula milk is based on 40 years of breast milk research. Aptamil Profutura (rsp: £12.99/800g) is the brand's 'most advanced formulation yet' and contains the highest levels of DHA omega-3 on the market with a new fat structure. Brand owner Danone Nutricia says Profutura is a 'breakthrough innovation'.

Little Dish Go Gos

Launched: January 2016

Manufacturer: Healthy Kids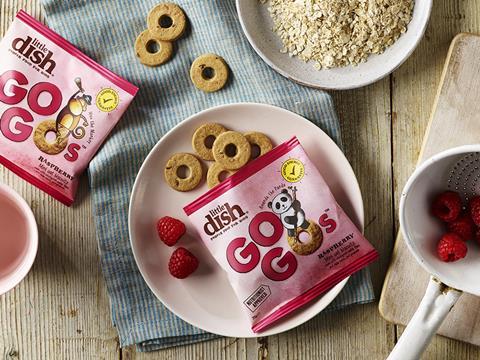 Little Dish is entering snacks for the first time with mini wholegrain oat biscuits made with chia, flax and pea protein. Go Gos in raspberry, vanilla and ginger (rsp: 60p/25g or £2.50/5-pack) contain 3g of protein and less than 1g of sugar. The NPD was developed with dietician Lucy Jones and is made to a wheat and dairy-free recipe.

Heinz Wider Spout

Launched: January 2016

Manufacturer: Heinz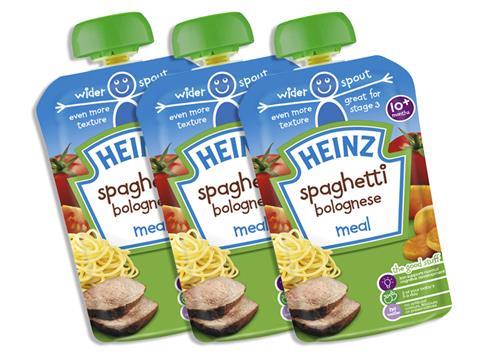 Heinz hopes to reverse sliding sales with the market's first stage 3 range of pouches with a spout. Rolled out across the brand's stage 2 range in 2015, the wider spout allows for bigger chunks of food. The three-strong range (rsp: £1.79/180g) comprises paella with Mediterranean veg, sweet & sour chicken and spaghetti bolognese.