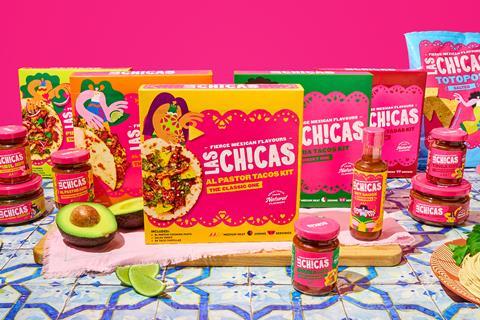 Kraft Heinz is looking to challenge Old El Paso with its own Mexican-inspired cooking brand, Las Chicas.
It has made its debut with five meal kits (rsp: £3.20): Al Pastor Tacos, Pibil Tacos, Birria Tacos, Tinga Tostadas (296g) and Al Pastor Quesadillas (336g).
It also features cooking pastes Al Pastor, Pibil (rsp: £3/95g) Birria and Tinga (rsp: £3/100g).
They are joined by Verde (190g) and Rioja (200g) salsas priced at £2.40, a hot sauce (rsp: £1.60/105g) and tortilla chips (rsp: £2.10/175g).
Las Chicas was developed by Heinz in partnership with Mexican culinary institute El Claustro and two of Mexico's up-and-coming chefs, Karla Encarnación and Ximena Gonzalez.
It included "all the essentials required to make Mexican food as flavourful and authentic as possible, in as little as 20 minutes", said Heinz.
It is the latest brand launch by Heinz's New Ventures division, rolling into Asda stores on 11 September.
"The fresh flavours of Mexico are unrivalled when it comes to taste, and Las Chicas presents an exciting opportunity to play in a growing category that uses our expertise in flavour exploration," said Cristina Kenz, chief growth officer at Kraft Heinz Company International.
"We'll be listening to consumer feedback to inform how we expand the brand's footprint beyond the UK."
It comes after Heinz New Ventures rolled out a tomato-based ingredients range comprising 11 SKUs in July, including five cooking sauces.