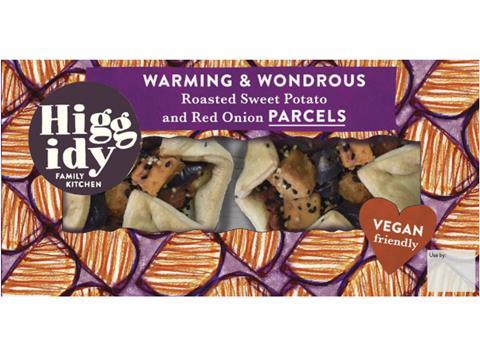 Higgidy has launched two meat-free parcels exclusively into Waitrose, to appeal to the supermarket's growing number of vegan, vegetarian and flexitarian shoppers.
Earlier this month, Waitrose launched dedicated plant-based sections in more than 130 stores, following the launch in October of its biggest ever range of meat-free foods.
Higgidy has added vegan-friendly Roasted Sweet Potato & Red Onion Parcels made from hand-folded pastry and a spiced tomato and lentil filling with chilli-roasted sweet potato and red onion. It is joined by Artichoke, Feta & Pumpkin Seed Parcels, suitable for vegetarians and comprising puff pastry, basil, spinach, artichokes, feta and pumpkin seeds. Both chilled products have an rsp of £3.50 for 160g.
"Meat-free eating at least once a week is fast becoming the norm, whether for healthy eating or environmental reasons," said Higgidy co-founder and CEO Camilla Stephens.
The East Sussex business has a number of other vegetarian products in its portfolio of quiches, frittatas, rolls and pies, including its recently launched two-pack veggie rolls.
It had introduced a vegan-friendly option to satisfy "the growing number of people who are opting for a vegan lifestyle but don't necessarily have the time to spend hours cooking" Stephens added.
"Those looking for vegan choices are often overlooked when it comes to savoury pastry, so our new vegan parcels will provide a delicious option."
Higgidy's latest innovation comes after the brand was among big names to lose shelf space in Tesco amid a shake-up of the retailer's chilled aisles as part of Project Reset.