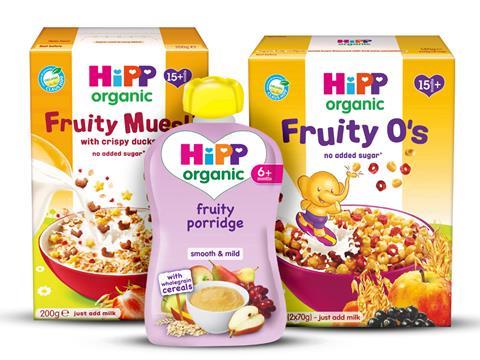 Hipp Organic has extended its baby breakfast portfolio with two new ranges including 'porridge pouches' - currently the UK's only such range, the producer claims.

The porridge pouch range will be rolled out into Tesco from 1 June, followed by Boots and Waitrose later in the month, comprising three variants: pear, apple & apricot; apple & peach; and 'fruity' (rsp: 99p/100g).

The lines are made with wholegrain cereal, contain no added sugar and include one portion of fruit per pouch.

Pitched as the first pouch porridge for babies aged six months-plus, the range had been developed to "capitalise on the popularity of the format" in the babyfood category, said UK general manager John Allaway.

The trio is launched alongside a Fruity cereal duo - Fruity Muesli with crispy ducks shapes (rsp: £2.39/200g) and Fruity O's - (rsp: £2.39/two 70g sachets). They will be available from Tesco from 1 June and target toddlers aged 15 months-plus. Introduced to provide an alternative to the "higher-sugar options" in the main cereal aisle, the cereals, like the porridge pouches, contained only natural occurring sugars and were made with "the finest" ingredients, with Fruity O's containing "one of the lowest sugar contents per 100g across the whole baby cereal category" claimed Allaway. "The babyfood aisle lacks products specifically for this age group, and it is at this age when parents move towards the adult aisles."

The two ranges form part of a "busy programme" of launches.