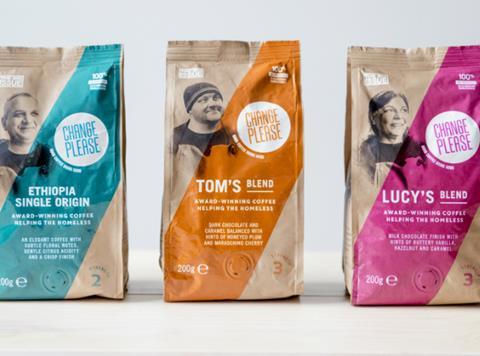 A new coffee brand launched to support homeless people has won a national listing with Sainsbury's.
Change Please began almost two years ago as a social enterprise scheme in partnership with The Big Issue, serving coffee to Londoners from a mobile cart. It has since added 14 more carts and achieved revenues of £665,000, which has paid for housing, therapy and barista training for 35 homeless people.
The scheme would soon be able to offer more jobs after the rollout to 375 Sainsbury's stores from 18 September, it said. Profits from the sale of three ground coffee variants – each featuring the story of someone Change Please has helped – will go towards expanding the business, which receives funds from Comic Relief and Virgin Startup. Rsp is £4.50 for Ethiopian Single Origin, Tom's Blend and Lucy's Blend (200g). A share from each sale will go to the person featured on the packaging.
The Sainsbury's listing was "a huge step forward to helping the current state of homelessness in the country" said Cemal Ezel, founder of Change Please, which estimates 2016 saw a 16% rise in the UK's number of people sleeping rough.
"We have built this social enterprise on being a 'pick me up, not a hand-out' for the people involved, and it is their hard work that has got their lives moving in the right direction," he added. "On a much wider scale now through the consumer product, we can make an even bigger impact on this country's homelessness problem."