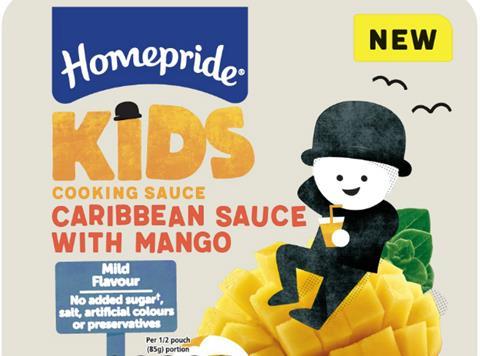 Premier Foods has added a seven-strong Homepride cooking sauce lineup aimed at children aged four to seven.
The world-inspired recipes are low in sugar and fat, with no more than 5g of sugar per 100g and fat content at 2.7g or less. Salt is limited to an average of just 0.06g per 100g across the range.
Variants include three Italian options – Classic Bolognese, Cheesy Tomato, and Tomato & Mediterranean Vegetables – all with 80g of 'hidden veg' per 85g serving. They are joined by Caribbean Sauce with Mango, Indian Korma Curry, Chinese Sweet & Sour, and Thai Creamy Sauce. All are available in a 170g pouch (rsp: £1.29).
Homepride Kids was targeted at the "2.8 million families in the UK with children aged between four and seven", said Yilmaz Erceyes, brand director for cooking sauces at Premier. "There is a gap in the market for products that specifically target this age group."
The NPD would "train younger taste buds to explore different meals so they can enjoy the same dishes with their parents sooner rather than later" he added. "This new range will create less frustration for parents who are continuously on the lookout for healthier options for their children."