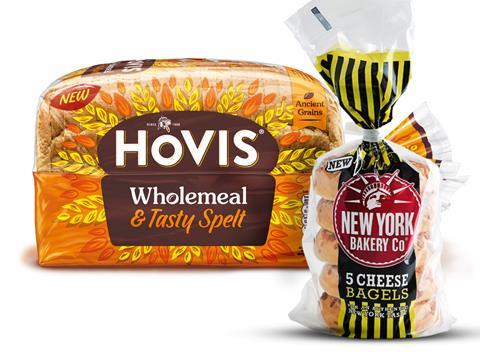 Two major bakery brands have unveiled NPD, with Hovis launching a Wholemeal & Tasty Spelt loaf and the New York Bakery Co announcing a Cheese Bagel variant.
The new Hovis product was intended to satisfy consumers' growing appetite for products containing 'ancient grains', said Sharon Barraclough, marketing director for the brand. "Globally, bakery is the most popular category for ancient grains innovation, and there is a clear opportunity to capitalise on this within the wholemeal sector."
Available from this month, the sliced loaf has an rsp of £1.15 (750g).
New York Bakery Co's Cheese Bagel has been designed to offer consumers a broader choice in answer to "huge demand", according to marketing director Tim Barkey.
"Cheese takes the top spot as the all-time most requested bagel flavour by our consumers, and we know choice and variety is the absolute gateway to consumer trial," he added.
The new SKU will be rolling out into major supermarkets this month, with an rsp of £1.60 (5 pack). The launch is set to be supported by a £1.2m marketing campaign, including TV and digital advertising, and follows a £2m upgrade of the brand's manufacturing facilities.