With patriotic Brits poised to host afternoon teas, attend street parties and raise a toast or two to Her Majesty, food & drink is set to be an intrinsic part of the Queen's Platinum Jubilee festivities this weekend. Here are the brands helping the nation to celebrate with new products, recipes, rebrands, marketing campaigns and more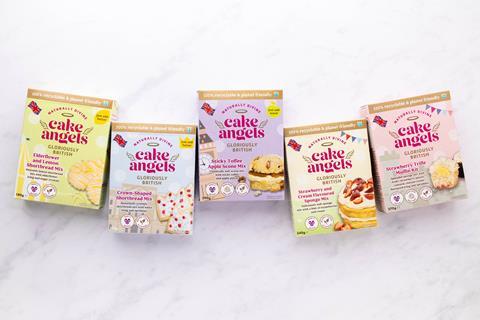 Cake Angels
No Jubilee celebration would be complete without plenty of cake. And for consumers that want a simple way to bake their own, "very British brand" Cake Angels is offering a selection of special baking mixes. The Gloriously British range features five recipes based on classic British bakes. They are: Strawberry Trifle Muffin Mix, Heavenly Elderflower & Lemon Shortbread Mix, Deliciously Soft Strawberry & Cream Sponge Mix, Classically Soft Sticky Toffee Apple Scone Mix and Beautifully Crumbly Crown Shaped Biscuit Mix (rsp: £1-£2.75/172g-340g). The range went on sale in Morrisons, Aldi, B&M, Farmfoods, QD Stores, Heron Foods and independents at the end of April.
And the celebrations don't stop there for the Fiddes Payne-owned brand. It is launching a social media marketing push throughout the summer, including brand partnerships, competitions and collaborations with baking influencers on TikTok. The campaign will see Cake Angels team up with brands like The Happy Egg Co (see above), Tims Dairy and Tiptree owner Wilkin & Sons, who are also pushing a collaborative Jubilee launch (see below).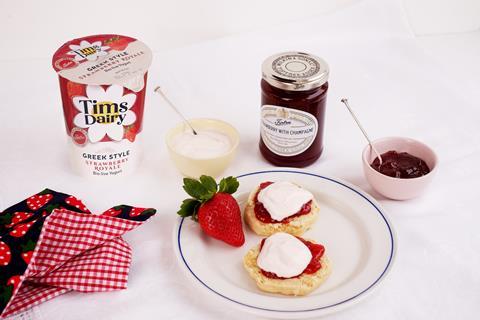 Tims Dairy and Wilkin & Sons
From afternoon teas with scones and jam to Wimbledon's famous dessert, strawberries and cream is a combination synonymous with British summertime. Now, in celebration of the festivities this June, two British brands are teaming up to offer these "classic summer flavours" in yoghurt form. The limited-edition Strawberry Royale Greek Style bio-live yoghurt combines Tims Dairy's Greek Style yoghurt with Wilkin & Sons' Tiptree Strawberry with Champagne Conserve. Described by the brands as "indulgent" and "celebratory", the big pot product went on sale in Waitrose and Ocado in March (rsp: £2.10/450g).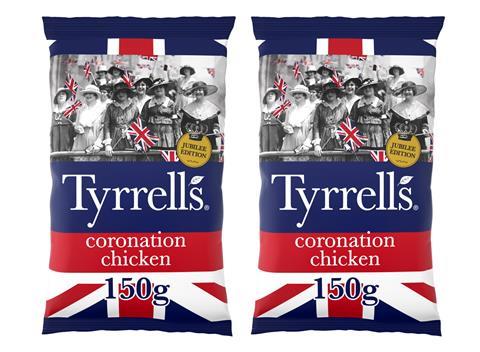 Tyrrells
When launching a limited edition crisp to mark 70 years since the Queen's coronation, what better flavour to choose than the dish created especially for the occasion? Tyrrells' 'Jubilee edition' Coronation Chicken crisps, which feature a patriotic 1950s-era image, land exclusively in Waitrose this month (rsp: £2.30/150g). As well as celebrating the event, Tyrrells hopes "the innovative new flavour will attract new shoppers to the brand" this summer.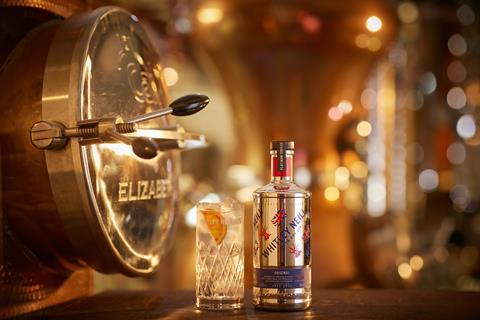 Whitley Neill
Premium gin brand Whitley Neill is no stranger to celebrating the Queen's Jubilees. Back in 2012, a 500-litre pot still at its City of London Distillery was named 'Elizabeth' to mark the diamond occasion, and its London Dry Gin has been distilled in it ever since. This year, the Halewood brand is continuing the tradition by pouring its flagship spirit into a commemorative bottle, which features a red, white and blue colour scheme, union flag emblems and a shiny platinum finish. The souvenir bottle has been available on the Whitley Neill website and in supermarkets and convenience since February (rsp: £26/70cl).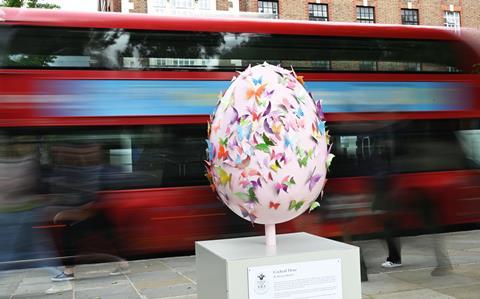 Clarence Court
It's used to flogging those of the chicken, duck and quail variety. But this Jubilee season, Clarence Court is turning its attention to a different kind of egg. Along with conservation charity The Elephant Family and property management company Cadogan, the premium egg supplier will be marking the occasion with an exhibition of giant, decorated eggs in Sloane Square, Chelsea. Called Eggs of an Era, the trail will feature seven eggs, each representing a decade of the Queen's 70-year reign.
View this post on Instagram
Each egg will be designed by one of seven celebrated artists, including Emily Powell, Rebecca Campbell, Sasha Compton, Simon Emery, Patricia Mitchell, Özlem Thompson and Tatiana Alida. The eggs will be on display between 16 May and 12 June, before being auctioned off to raise money for The Elephant Family's conservation work across South Asia, which includes cracking down on the poaching and collection of rare birds' eggs.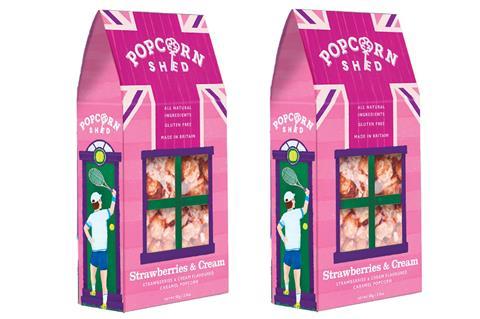 Popcorn Shed
Patriotic popcorn lovers may be tempted by this "quintessentially British" offering from Popcorn Shed, which is launching in time for summer occasions including Wimbledon and the Jubilee. Emblazoned with the union flag and featuring tennis player imagery, the strawberries & cream flavoured caramel popcorn has been available on the brand's website from May (rsp: £3.50/80g).
Belvoir Farm
For Belvoir Farm, the Jubilee isn't the only important occasion taking place in June. It is also the time of the brand's annual elderflower harvest, for which it recruits people from the local community in Leicestershire to help pick the flowers needed for its elderflower range. To mark the two events coinciding this year, Belvoir is launching limited edition 'Best of British' bottles for its Elderflower Cordial (rsp: £3.30/500ml) and Sparkling Elderflower drinks (rsp: £2.70/750ml). Each bottle features the dates of Queen Elizabeth's reign and a label decorated with red and blue bunting. The bottles will be available from all major supermarkets from April to June.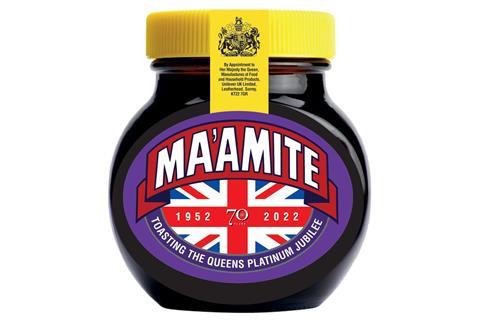 Marmite
Lovers of Marmite may remember the brand's limited-edition Ma'amite jar, which launched especially for the Diamond Jubilee a decade ago. Now the design is making its return, this time to celebrate the Queen's 70 years on the throne. Said to be selling out fast, the packs are available from online sites such as Amazon and Groupon.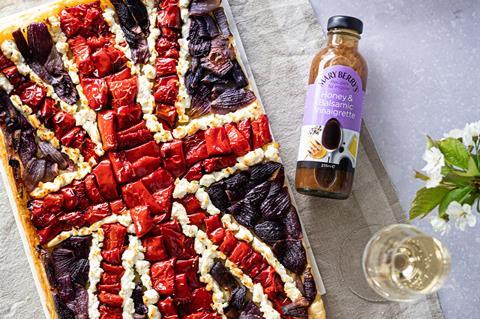 Mary Berry's
As Brits prepare to celebrate one monarch next month, the queen of baking is also on hand to provide some recipe inspiration. Mary Berry Foods is using the occasion to launch its new #DoTheTwist campaign, which encourages consumers to add a unique twist to their dishes using its six-strong range of dressings. As part of the campaign, the brand is launching a collection of Jubilee-inspired recipes on its website and social media. These include Tantalising Union Jack Tart with Honey & Balsamic Vinaigrette (pictured) and Street Party Ready Blue Cheese & Thyme Scones with Blue Cheese Dressing.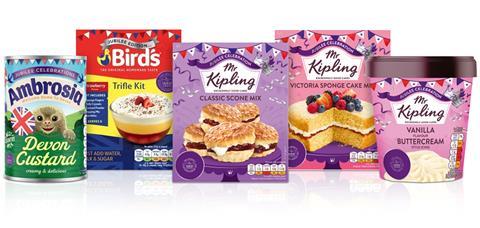 Premier Foods
In anticipation of the Jubilee baking set to take place this bank holiday weekend, selected brands across the Premier Foods portfolio have been given a celebratory makeover. A trio of traditional products from the Mr Kipling baking range – Victoria Sponge Cake Mix, Classic Scone Mix and Vanilla Flavour Buttercream Style Icing – have recieved a new design, alongside Bird's Strawberry Trifle Kit and Ambrosia Devon Custard. For a limited time, the products will bear the Platinum Jubilee emblem and imagery including bunting and crowns.
Sandford Orchards
"Why would you toast the Queen's health with French champagne when you can raise a glass of 100% British cider?" So asks Barny Butterfield, chief cidermaker at Sandford Orchards, which is marking the Jubilee with a limited edition Devon Red Cider. Billed as "a celebration of all things British", the 4.5% abv, medium cider is made from apples grown and pressed in Devon, at what the brand claims is the oldest working cider mill in the UK. The tipple will be available from retailers including Morrisons, Spar and Aldi from May (rsp: £2.30/500ml).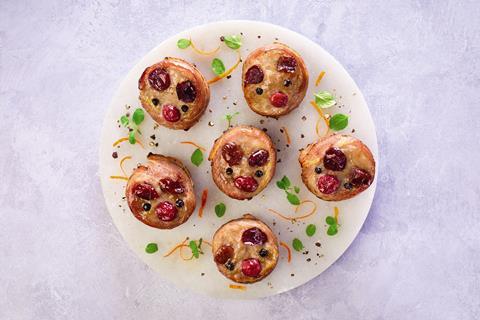 Aldi
If you thought stuffing wrapped in bacon was just for Christmas, think again. Aldi has used the ingredients to recreate the Queen's beloved pooches, complete with cranberry ears and noses. The Platinum Corgis land in stores from the start of June (rsp: £2.99).
And that's not all the discounter is doing to help shoppers celebrate. It is also adding a raft of beer, wine and spirits launches, from Specially Selected English Sparkling Rosé (rsp: £15.99/75cl) and The Infusionist Eton Mess Gin Liqueur (rsp: £8.99/50cl) to a four-strong range of Jubilee Craft Beers (rsp: £1.59/440ml). The latter comprises Session IPA, Session Pale Ale, British Ale and British Lager, which all feature colourful labels depicting patriotic imagery such as Big Ben's Elizabeth Tower, Nelson's Column and the Queen's corgis themselves.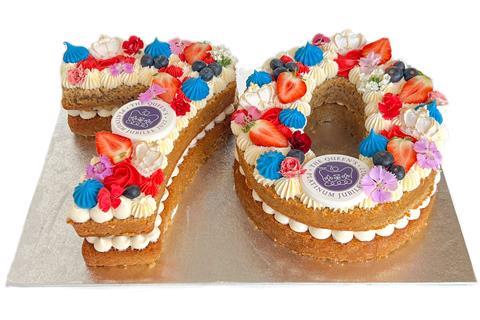 My Baker
Cake delivery company My Baker, which creates showstopping celebration cakes for consumers and corporations, is catering for large gatherings and street parties with its Jubilee bake (rsp: £108). In the shape of the number 70, the cake is made from elderflower sponge, sandwiched with blueberry jam and topped with vanilla buttercream. As well as red, white and blue decorations such as meringue kisses, icing flowers and fresh berries, the cake is also crowned with an edible disc bearing the Platinum Jubilee emblem. Serving 16 to 20 people, the cake can be delivered within 24 hours within the M25 and 48 to 72 hours across the rest of the UK.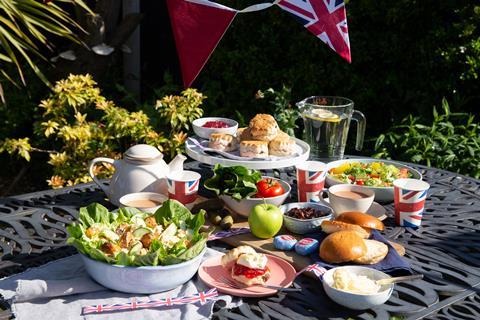 MuscleFood
For shoppers looking to stick to their diet while celebrating this weekend, MuscleFood has launched a pair of recipe kits inspired by 'British classics'. Available individually or as part of the brand's Goal Getters meal plan, the kits contain all the ingredients needed for a Ploughman's Lunch or Coronation Chicken Salad (rsp: £5). Both kits provide three of consumers' 5 a day and are low in fat and high in protein, according to the brand.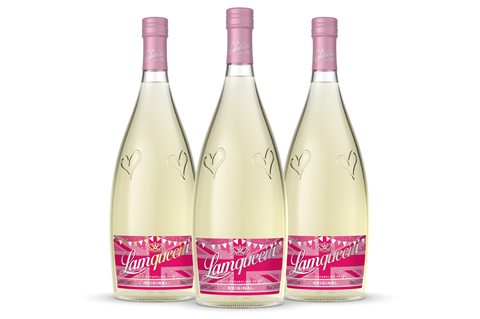 Lambrini
Her Majesty's favourite drink may famously be a gin and Dubonnet cocktail. But this month, Lambrini is offering another tipple fit for a queen. Dubbed Lamqueeni, the brand's flagship sparkling perry has been repackaged with a pink union flag label, featuring sparkles, text and bunting in either gold, silver or rose gold colourways. The 6% abv drink will be available in May and June from Tesco, Sainsbury's, Morrisons, Asda and convenience stores (rsp: £3/1.25 litres).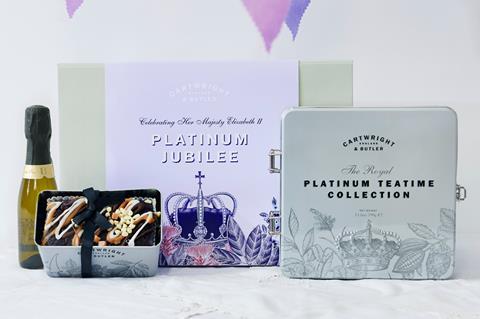 Cartwright & Butler
Brits planning a celebratory afternoon tea over the bank holiday weekend could look to Cartwright & Butler for some fancy fare. The upmarket hamper specialist has created a new range of Jubilee-inspired products, including two hamper options. The first, The Platinum Teatime Collection (rsp: £18/390g), features Chocolate Brownie Biscuits, Demerara Shortbread and Earl Grey Tea, packaged in a commemorative tin. This is joined by the Jubilee Celebration Gift Box (rsp: £40), which contains all of the above plus a Chocolate Loaf Cake and a minature bottle of prosecco. Also available are The London Collection Biscuits (rsp: £12/200g). With three variants to choose from – Chocolate Brownie Biscuits, Sea Salted Caramel Oat Crunchies or Strawberry & Clotted Cream Biscuits – the treats are presented in patriotic tins inspired by the landmarks of London.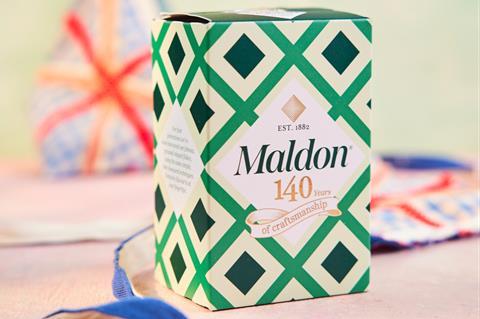 Maldon Salt
Queen Elizabeth is not the only one celebrating a major milestone in 2022. Maldon Salt is marking '140 years of craftsmanship' with a limited-edition pack, which launches into supermarkets including Tesco, Sainsbury's, Waitrose and Ocado from June (rsp: £2.30/250g). To celebrate the joint occasions, Maldon has also created a series of Jubilee-inspired recipes, such as Chai Chelsea Buns and Orange & Pistachio Battenburg, which will be available on its website.
But the brand's links to royalty don't end with a timely anniversary. Her Majesty paid a visit to Maldon's Essex salt works in 2010, and granted the company a Royal Warrant two years later. Photographs of the brand will also appear among 250 royal images in a commemorative Platinum Jubilee album, set to be published this year.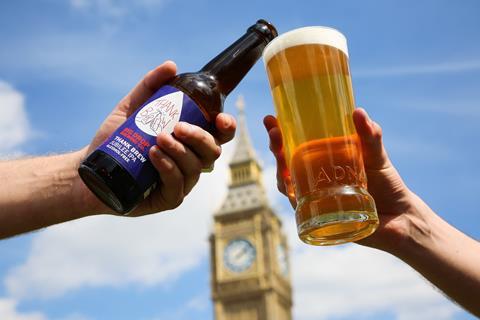 ThankBrew
As a way of celebrating both the Queen and local communities, social enterprise The Good Beer Co has recruited almost 25 breweries across the country to brew a special pair of beers for the Jubilee weekend. Theakston and St Austell are among the breweries signed up to produce the 3.5% abv Thank Brew Jubilee IPA, using a recipe created by Adnams, while low-alcohol brewer Big Drop will produce a 0.5% abv alternative. Pubs and other licensed premises are being encouraged to join the campaign by selling the beers and hosting events – such as a Big Jubilee Lunch or a Thank You Day party – across the bank holiday weekend. All the profits from sales of the beers will be donated to charities including Reset Communities and Refugees, which is helping to support Ukrainian refugees arriving in the UK.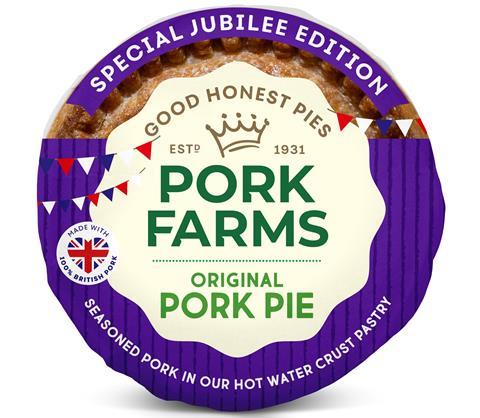 Pork Farms
Pork Farms is celebrating by giving its original pork pie a regal makeover. The Special Jubilee Edition pie, which features seasoned British pork in a hot water pastry crust, will be wrapped in royal purple packaging adorned with crown and bunting designs. "The pork pie has always been a British favourite", says Jason Manley, head of marketing for Pork Farms. "We'll be very proud to feature in picnics, barbecues and celebration parties across the UK throughout the Jubilee weekend." The pie is available now in retailers including Tesco and Asda (rsp: £2).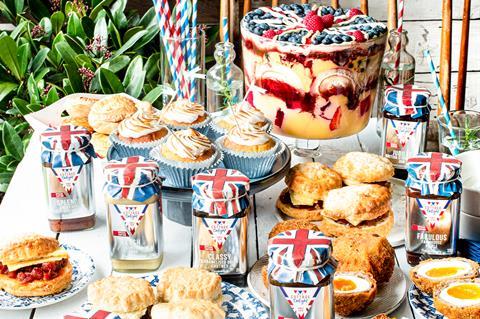 Cottage Delight
Wrapped in shiny platinum labels and topped with union flag lid covers, Cottage Delight's new Jubilee range is certainly dressed for the occasion. The lineup features seven special edition products, including sweet preserves such as British Strawberry Jam (rsp: £3.99/340g), Lush Lemony Curd (rsp: £3.99/310g) and Marvellous Orange Marmalade (rsp: £3.59/350g). Also featured in the range are savoury items like Fabulous Farmhouse Pickle (rsp: £3.59/320g), Splendidly Sweet Apple Chutney (rsp: £3.59/325g) and a Classy Caramelised Onion Chutney made with balsamic vinegar (rsp: £3.99/350g). The sweet and savoury items will also appear in one of two new gift sets: Perfectly Patriotic Preserves and Truly Grate for Cheese (rsp: £12.99). Finally, topping off the range – and consumers' scones – will be Celebration Clotted Cream (rsp: £4.29/170g).
To help customers make the most of their Jubilee products, Cottage Delight is also offering a collection of street party-ready recipes on its website. For example, bakers can try their hand at a Triumphant Union Jack Trifle, Luscious Lemon Curd Meringue Cupcakes or Mini Patriotic Pies (all pictured above).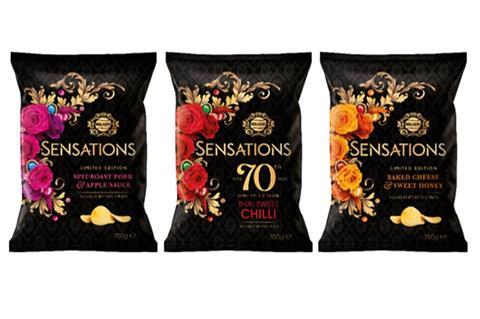 Walkers Sensations
Walkers is going posh this Jubilee season, adding two limited edition flavours to its Sensations range inspired by "regal British dining flavours". The launch of the Spit Roast Pork & Apple Sauce and Baked Cheese & Sweet Honey crisps will be accompainied by the brand's "poshest-ever campaign", featuring former Made in Chelsea star and I'm A Celebrity champion Georgia Toffolo. Available in sharing bags (rsp: £1.99/150g) and PMPs (rsp: £1/65g), the crisps will be on sale across grocery channels from mid-May until the end of the bank holiday weekend. The brand's Thai Sweet Chilli flavour will also get a temporary makeover to mark the Jubilee.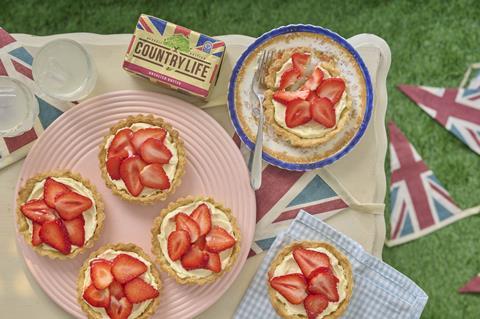 Country Life
Country Life butter – which bears a union flag on its packaging all year round – is bigging up its Britishness even more this month in celebration of the Jubilee. Through its new 'Make it a Jubilant Bake' campaign, the brand will encourage shoppers to 'perfect their cakes, bakes and finger sandwiches with deliciously creamy Country Life'. Including a partnership with Mail Metro Media and activations across various supermarkets, the campaign 'aims to harness the pride and passion for Britishness that is at the heart of the Country Life brand', it says.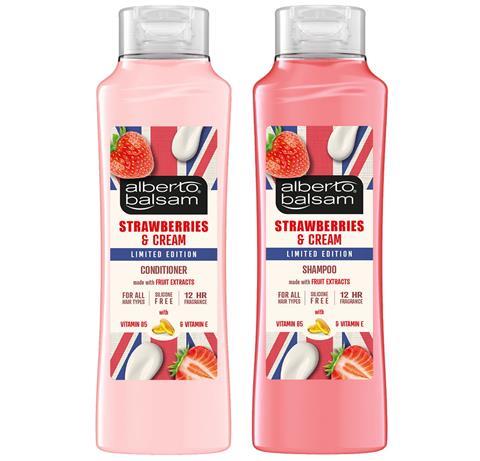 Alberto Balsam
It's not just foodie brands getting in on the Jubilee action. Haircare brand Alberto Balsam is launching limited-edition Strawberries & Cream-scented shampoo and conditioner, featuring a union flag pack design and a fragrance "reminiscent of a quintessentially British summer". The products will be available in B&M, Asda, Poundland and Wilko from June (rsp: £1/300ml).
Adnams
Suffolk distillery Adnams is pouring its First Rate London dry gin into a limited edition bottle to mark the royal occasion. Emblazoned with the Platinum Jubilee emblem, the 57.15% abv spirit will will be available from Adnams stores and online from 23 May.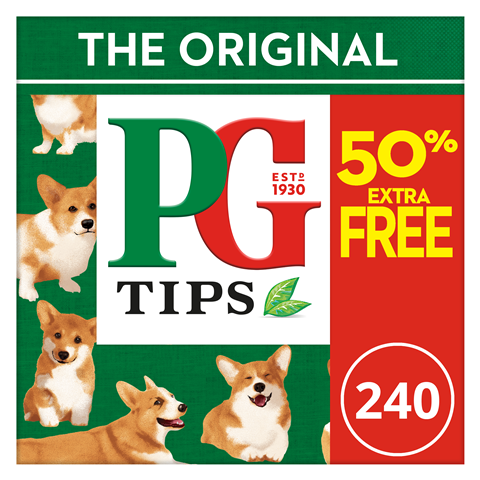 PG Tips
Unilever has gone down the cute route to make PG Tips stand out on shelves this Jubilee season. From May until the end of June, boxes of the brand's original tea will be covered with characterful corgis. PG is also running a Jubilee prize draw, in which shoppers can win a keepsake corgi caddy, a £150 Iceland voucher or two tickets to The Big Jubilee Lunch.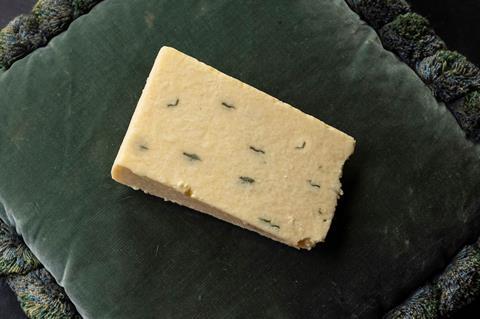 Butlers Farmhouse Cheeses
Back in 1981, Butlers Farmhouse Cheeses gifted some of its Sage Lancashire cheese to the Queen – and later recieved a letter of thanks from Buckingham Palace. Now, for the first time in 40 years, it is making a batch of cheese to the same recipe to celebrate Her Majesty's Platinum Jubilee. A limited number of wedges are available from the cheesemaker's web store (rsp: £7/300g).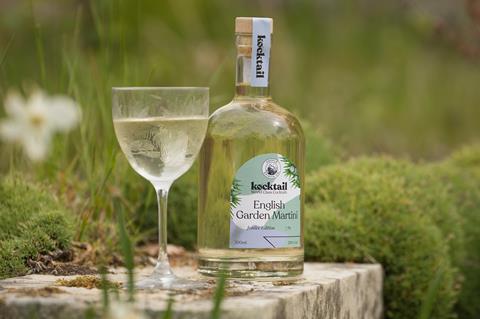 Kocktail
To celebrate the Queen's 70 years on the throne, pre-mixed cocktail brand Kocktail is launching 70 bottles of its Jubilee Edition drink: an English Garden Martini. Bottles of the tipple, which comprises Hepple gin, dry vermouth, elderflower liqueur, rhubarb, cucumber and rose tea, will be numbered one to 70, making them a "cocktail lovers' collectable", according to the brand. The product launched on Kocktail's website at the end of May (rsp: £35/500ml).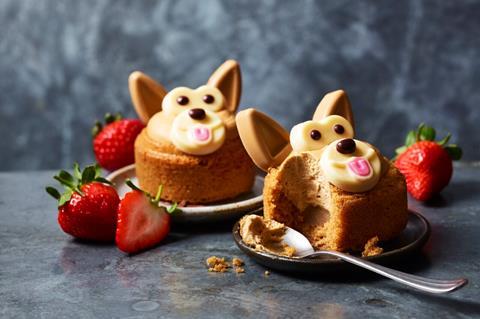 Marks & Spencer
From corgi cakes and crown-shaped cheese truckles to coronation chicken sausages, M&S is tapping into an array of regal themes for its new Jubilee range. Click here to see a preview of the full range, which is rolling out to stores now.