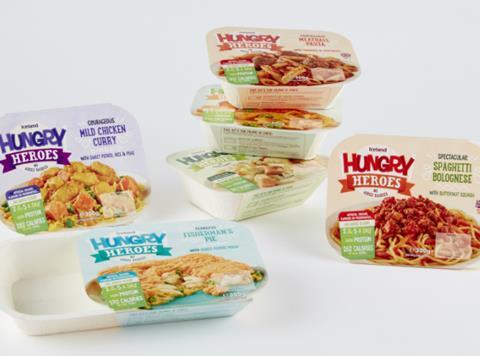 Iceland has unveiled two own label ready meal ranges using its new environmentally friendly packaging. Hungry Heroes for kids is rolling out alongside Mumbai Street Co, a ready meals lineup inspired by Indian street food.
Hungry Heroes had been created to showcase "the importance of fruit and vegetables" said Iceland. With no added sugar, additives or preservatives, the 13 products in the range offered parents "guilt-free convenience".
Variants include Courageous Mild Chicken Curry with Sweet Potato, Rice & Peas, Fearless Fisherman's Pie with Sweet Potato Mash, and Spectacular Spaghetti Bolognaise with Butternut Squash (£1.59/300g), as well as Mighty Fruit Lollies and milkshake mix in banana & chocolate and strawberry & raspberry flavours (£2).
Hungry Heroes differed from other children's ready meals by "not purposely disguising fruit and vegetables" said Iceland head chef Neil Nugent. "Nothing is 'hidden'. The dishes taste and look great, so they are served in all their glory."
The range was developed in collaboration with Channel Mum, an online parenting community with a social media reach of more than five and a half million parents. Five pence from the sale of every Hungry Heroes SKU will be donated to Alder Hey Children's Hospital in Liverpool.
The new meals are among Iceland's first products to come in pulp and paper trays. They were introduced as part of the frozen food specialist's commitment to become the world's first major retailer to eliminate plastic from all its own label packaging within five years.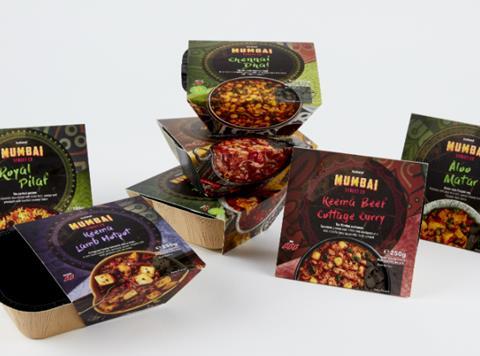 The Mumbai Street Co boasts the same sustainable packaging. Inspired by "one of the UK's hottest new food trends", it marked Iceland as "the first retailer to launch its own range of Indian street food" the retailer claimed.
Comprising 16 'small plates' each priced at £1.50 (or four for £5), Mumbai Street Food Company's meat and vegetarian dishes were "ideal for sharing" and reflected "the melting pot of flavours found on the streets of Mumbai".
Gunpowder Chicken, Tandoori Shashlik, Goan Pulled Pork, Chilli Paneer and Calcutta Kale Bhaji are among the variants, with pack weights from 120g to 250g.
The dishes "embraced the eclectic essence of Indian street food" said Nugent. They were inspired in part by "the increasing number of street food stalls, trucks and restaurants – like Dishoom, Kricket and Mowgli – popping up across the UK."
Annual revenue from street food in the UK was now more than £600m, said Iceland. "In 2016, the amount of people eating street food two or three times a week increased from 20% to 25%."