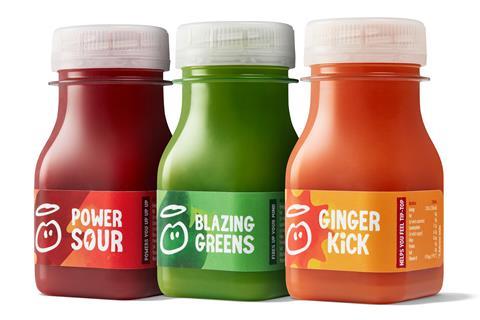 Innocent is taking its first step into the juice shots category with the launch of a three-strong lineup.
Called Innocent Shots, the range comprises three juices - Power Sour, Ginger Kick and Blazing Greens - each "packed with fruit & vegetables".
Innocent said the juices offered a "boost of nutrients to keep the body healthy" and were "an easy way to get a daily dose of the good stuff".
The addition of "exciting" ingredients like jalapeños and ginger delivered "a punch of taste" and an "exciting new experience for on-the-go drinkers" it added.
Innocent claims a different health benefit for each of the three shots, with Power Sour billed as providing energy, Ginger Kick as boosting immunity and Blazing Greens focused on the mind.
They were the brand's "most intense juices yet and we can't wait for people to give them a shot," said Innocent brand manager Karine Loutfi, adding the shots were "packed with exciting new tastes".
They provided "tailored health benefits to power the body and mind" and were "perfect for on-the-go," she said.
The range will launch in recyclable packaging, which Innocent said would address "a common problem in the category".
They will roll out in individual bottles (rsp: £1.99/100ml) and in multipacks (rsp: £4.99/3x100ml) at Waitrose from 11 March, followed by Boots on 30 March and a major mult on 11 May.