NPD is starting to ramp up again. So how are brands continuing to innovate, and what challenges are they facing?
They say necessity is the mother of invention. In which case, the pandemic should have well and truly put the brakes on innovation in grocery.
As coronavirus hit, priorities shifted to simply keeping the nation fed. At the request of supermarkets, many suppliers went as far as rationalising their ranges down to core SKUs to meet volumes. New products certainly didn't feel like a necessity, or even a luxury the industry could afford.
But three months into lockdown, the industry is cranking up its innovation pipeline once again. The likes of Doritos, Echo Falls, BrewDog and Napolina have all unveiled serious NPD over the past few weeks.
So how exactly has the pandemic affected levels of innovation? How receptive are retailers to launches? And how are brands overcoming practical difficulties in launching NPD in the lockdown?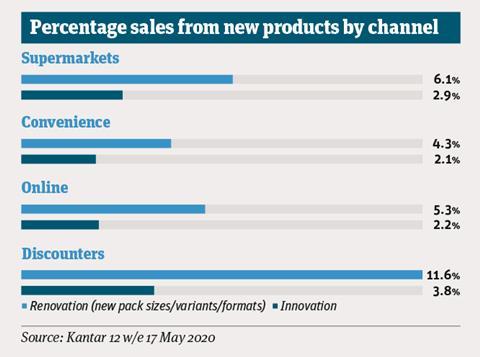 Overall, there have been more delistings than new launches. Since the pandemic hit there have been 7,192 new listings across the big four and Waitrose [Assosia 1 March to 18 June 2020]. That compares with 23,602 delistings over the same period (though 5,940 have since been relisted).
The main focus has been on range rationalisation, simplifying supply chains to increase volume and meet demand. "At the beginning it was all about supply and logistics and trying to make sure the retailers were getting serviced," says Neil Anderson, retail brands marketing director at Quintessential Brands.
Richard Harrow, UK partner at private label consultancy IPLC, says that initial impact made many key retailers and suppliers pull back on innovation. The effect is coming through now, as shown by the 10% decline in new listings from March to May [Assosia]. But Harrow is beginning to see a bit more of a settled position. "The industry is adapting to the new way of working," he says.
That new way of working has to take into account new consumer behaviour. And getting shoppers to buy new products in the current circumstances isn't easy. Innovation accounted for just 2.9% of supermarket sales in the 12 weeks to 17 May 2020, according to Kantar figures. That's down significantly on last year, when it accounted for 5.3% of sales. Dave Knowles, MD of Alpine Account Management, says supermarket shoppers "are much less likely to try something they've not heard of or spend time perusing, checking it out".
KP Snacks marketing director Kevin McNair agrees "creating disruption and trying to encourage trial of new things" is a challenge. He believes many suppliers are favouring extensions to existing ranges rather than new brand launches. That pattern shows in Kantar figures, which point to a slower decline in sales of renovations – new pack sizes, variants and formats – than innovations.
Still, it's hardly a death knell for NPD. Certain areas of the market are proving incredibly resilient. Innovation still accounts for 3.8% of sales at the discounters, for example – the highest proportion of any channel.
Aldi's buying MD Julie Ashfield says it "never lost sight of the need to continue our NPD", with its Specially Selected Ultimate Burger and vegan 'No Steak Bake' making their debuts during the pandemic.
Innovation has also taken a higher priority in certain categories. For booze brands, the closure of on-trade outlets has made it even more crucial to generate excitement in the off-trade through new products.
Take BrewDog. Amid the pandemic, it has brought forward an entire year's worth of innovation with the hope of transferring sales that would have taken place in its massive bar estate to online and retail.
"Normally our innovation pipeline involves keg-only beers for our bars but obviously this cannot happen at the moment," said CEO James Watt, speaking to The Grocer last month. "We want to ensure that while we are operating through limited channels we are still offering customers a great choice."
Knowles can see the merit in this strategy. "NPD in a category like craft beer is absolutely critical and the engine room for growth," he says, given that as much as 20% to 40% of craft beer sales come from the "constantly rotating" cycle of innovation.
"If anything, the pandemic has strengthened our approach to innovation"
For proof, look at Tesco. It pushed ahead with a major review of its craft beer range in the throes of the pandemic, taking bets on outré styles and flavours to keep notoriously fickle craft fans interested.
Booze isn't the only category pushing ahead with NPD. In other areas of the market, consumer trends have proven a driver for innovation. "If anything, the pandemic has strengthened our approach to innovation, as it has increased interest in healthy but tasty products," explains George Heler, founder of protein cheese brand Eatlean. As a result, he says, Eatlean's monthly e-commerce sales have tripled, giving it confidence to push ahead with a reformulation and plans for a new HQ, complete with a test kitchen.
Michael Hunter, chief growth officer at plant-based pioneer The Meatless Farm Co, agrees the crisis has been a "catalyst for innovation rather than a cause for cutbacks" in his corner of the market. Last month, the plant-based brand rolled out a major reformulation of its burgers and sausages and launched a DTC offer. Hunter says Meatless has also "adjusted our innovation thinking" to cater for new habits, including the growth in families cooking meals together.
So innovation is alive and kicking. It just has had to take a slightly different route. Some launches have had to be pushed back. "We have had to delay a planned launch by two to three months this year," says Gosh brand manager Olivia Salour. "This is mostly reflective of longer lead times from suppliers, who are working with reduced staff numbers due to Covid-19."
And social distancing and working from home have presented obvious barriers when it comes to testing and developing new products. KP Snacks, for one, had to adapt fast.
"We have had to be agile in our approach – we initially started off wondering how we were going to manage to do flavour, texture and packaging development," says KP Snacks' McNair.
"It's a catalyst for innovation rather than a cause for cutbacks"
"We've actually moved from doing work in the development kitchen at our site to our team doing it in their kitchens at home, working with the flavour houses and suppliers who have continued to develop all the recipes. We're using Google Hangouts to talk through the products."
One unexpected bonus of product testing in lockdown, says McNair, is that it has allowed KP to test snacks in their natural habitat. "You end up testing these products with your family in an occasion where they would actually be consumed," he explains. "I had one project we're working on for next year, I poured it into a bowl for my family while we were watching Toy Story 4 and got to see their reaction to it. It's very different to sitting in a meeting room."
Kopparberg marketing director Rob Salvesen agrees there are some benefits to the new environment, having unveiled a trio of new hard seltzers this month. "The joy of consumer research is a hell of a lot of it can be done online," he says . "If anything, you can get a bit more from [the research] because people are in their homes and have more time."
A more sizeable challenge comes on the production side. As manufacturers prioritise volume, it can be hard to even get space on a production line for new products. "A lot of manufacturing sites are running to capacity," says Alpine Account Management's Knowles.
It's especially problematic if you don't have your own factory. "It's much easier if you have your own site. In this climate a lot of packing sites won't be able to take any new products," he adds.
Small suppliers
That's put many smaller suppliers and challenger brands, who have relied on external contract manufacturers to produce and pack their products, at a disadvantage.
"A lot of co-packers and manufacturers are doing no-fly zones and not letting people from the outside into their factories," says KP's McNair. "They've got social distancing, they've probably got less people coming in because of self-isolation and protecting their staff, so they're almost certainly working at less capacity, while at the same time the grocers are asking for more volume."
Given those circumstances, he says, one can understand why they would be more focused on "fulfilling demand that is actually in the market right now".
There's more bad news for smaller suppliers: shoppers have doubled down on trusted big names during the pandemic. March alone saw 71% of the UK's number one brands gain share in their respective categories, according to Kantar. That has hit smaller operations.
"We have seen a rise in some challenger brands being temporarily delisted as retailers focus on key lines and stripping back choice," says Heler, though he adds that Eatlean has actually grown its listings.
What's more, it may become harder for smaller, untested brands to land trials with big retailers, McNair suggests. "I'm speculating but in the past one might have gone to Waitrose or Sainsbury's. Now they might need to try just launching in London or Manchester, or with a smaller outlet to prove the concept where the risk is lower in terms of cash outlay to drive trial."
Some buyers have also referred to "resting" products, while waiting for the situation to normalise. The onus is on suppliers to be nimble because it's clear innovation will continue in some form. It will just be a case of adapting. And if there's one thing NPD teams are used to, it's switching up the norm.
Five brands pushing ahead with NPD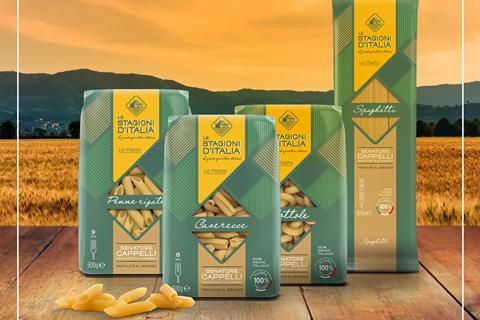 Le Stagioni d'Italia
An unexpected beneficiary of the coronavirus outbreak: posh Italian pasta brand Le Stagioni d'Italia.
It wasn't meant to launch in the UK until later this year, but listings in Sainsbury's and Asda were brought forward in May to meet surging demand for dried pasta as Brits turned to scratch cooking.
The brand says after speaking with the retailers it was able to put logistics and distribution in place to ensure stores received it as quickly as possible.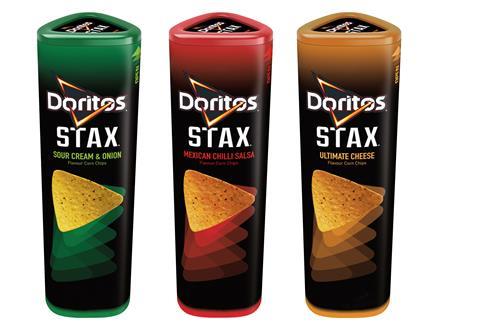 Doritos Stax
Doritos launched Stax, billed as its 'biggest launch ever' (and an audacious shot across Pringles' bow) one month into lockdown.
Dave Knowles, MD of Alpine Account Management, says the Doritos stack format will have benefited from shoppers prioritising familiar brands.
"If you had an NPD launch planned well in advance like Stax, it was great for the retailers because they could get it in quickly and generate more sales from a trusted brand," he explains.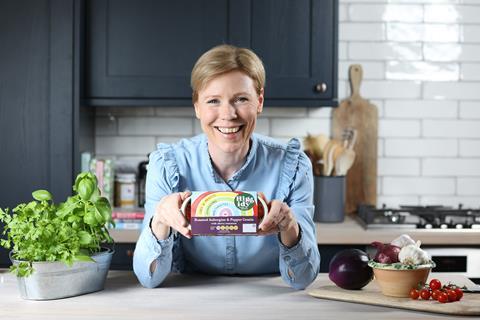 Higgidy ready meals
A major play from the pie pioneers: Higgidy's four-strong range of vegetarian ready meals marks the first time the brand has set foot outside pastries.
The veggie credentials were deliberate. Co-founder Camilla Stephens wanted to "put veg right into the centre of the plate". Higgidy is recommending the meals – which include Mushroom & Puy Lentil Cottage Pie with Kale & Butter Bean Mash – as part of a wider meal alongside other ingredients.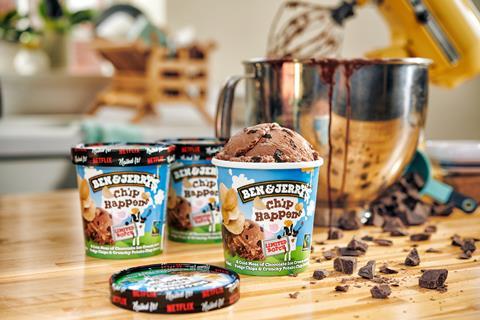 Ben & Jerry's Chip Happens
Just to prove that a pandemic is no match for wacky NPD, Ben & Jerry's has debuted this new chocolate ice cream with a 'crunchy' potato swirl. Yes,it's essentially ice cream with crisps.
The Chip Happens flavour aims to "please fans who like to dunk their chips in chocolate milkshakes". Hitting Asda's shelves this month, it will roll out to more retailers in September.
Whether it's a match made in heaven or hell will be a likely point of debate. But one thing is for certain: it will get people talking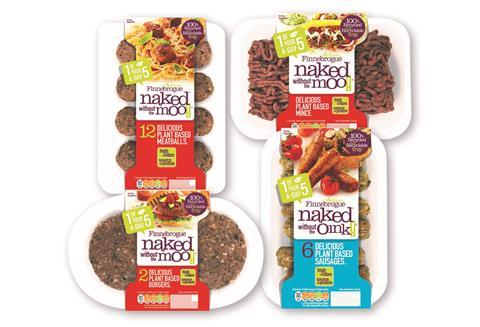 Naked Without The Moo
Northern Irish sausage and bacon brand Finnebrogue – known for pioneering nitrite-free bacon – has taken its 'Naked' brand into plant-based, adapting the term to signify a more general use of natural ingredients.
The plant-based trend was massive pre-coronavirus, and has continued to grow during lockdown – Kantar data shows meat alternative sales grew 25.3% in the 12 weeks to 19 April – in part thanks to poor availability of meat.
How Surya has upped innovation in Covid-19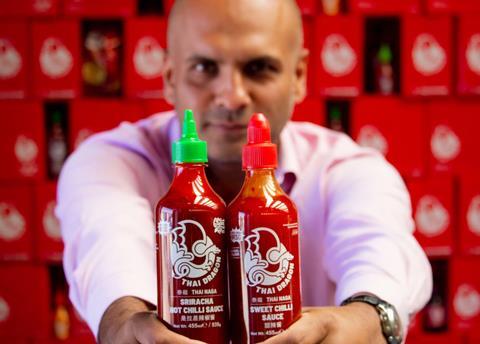 The surge in grocery sales at the outset of the pandemic actually sped up innovation and distribution gains at Surya Foods.
"The whole market was moving very fast with shortages affecting trade," says MD Harry Dulai. "The retailers were calling up and saying the competition wasn't able to supply a product and they needed a reliable supplier."
Luckily, the Laila owner had opened a £2m bagged snack production facility months before the pandemic. That enabled it to build up distribution and innovate. In January, it launched a duo of snacks under new brand Thai Dragon, which was expanded to include a five-strong range of sauces just last month.
Now Dulai is bearing in mind how the looming recession will affect fmcg. "Our focus for innovation is entirely on the value end," he says.