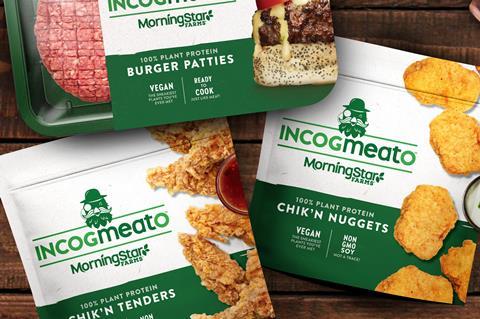 Kellogg's claims it has no plans to bring Incogmeato to the UK, despite having moved to trademark the name of MorningStar Farms, its division that makes the vegan brand.
Incogmeato is set to roll out to US grocery and foodservice early next year, having been unveiled in September as a three-strong lineup made from soy: chilled Burger Patties, and frozen Chik'n Tenders and Chik'n Nuggets.
The plant-based brand has also trialled an Italian-style sausage as a topping for a Garden Specialty Pizza from a Pizza Hut outlet in Phoenix, Arizona.
At the time of the September launch, a Kellogg's spokesman told The Grocer it was "actively evaluating our global expansion plans for MorningStar Farms".
That was two months after Kellogg's had registered the Incogmeato name with the Intellectual Property Office in July under class 29, which includes textured vegetable protein and vegetable based-meat substitutes.
Last month, Kellogg's also registered the name of MorningStar Farms – the meat-free supplier it acquired 18 years ago – under class 29.
"Often with new brands, the Kellogg Company trademarks across its core markets, including the UK, to ensure they are registered for future needs should they arise," said a spokeswoman for the breakfast giant. "At this time, our launch plans do not include UK."
MorningStar has yet to make an impact on UK grocery. It began in 1975 as a maker of soy-based vegetarian products such as burgers, sausages and corndogs. Kellogg's took control of the business in 1999 when it bought its owner, Worthington Foods.
In March this year, MorningStar announced its entire portfolio would be vegan by 2021. The reformulation would remove more than 300 million eggs per year from the supplier's production process, it said.