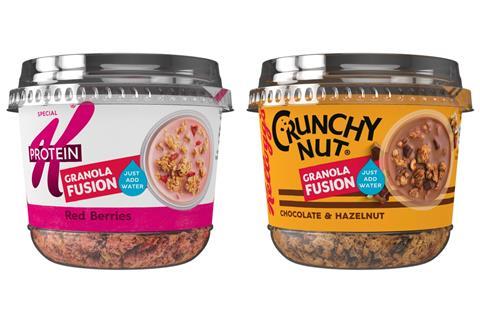 Kellogg's has boosted its smoothie bowl range beyond Joyböl with a duo of Crunchy Nut and Special K branded bowls.
The are: Kellogg's Crunchy Nut Hazelnut & Chocolate Granola (65g) and Special K Protein Granola (55g).
The cereal giant said it wanted to attract "new shoppers looking for breakfast on the go" with the NPD, which should appeal to people looking for "easier ways to have an early morning bite".
They were designed to be a "complete on-the-go breakfast solution", requiring only the addition of water, it said (rsp: £1.59).
It comes just over a year since Kellogg's debuted in smoothie bowls with Joyböl: a five-strong range containing a mix of grains, nuts and seeds.
A Kellogg's spokeswoman said the new smoothie bowls would "sit in the same range portfolio as the other smoothie bowls as part of our portable offering".
It is not clear if Kellogg's intends to launch any more Joyböl products.
Kellogg's has also unveiled a trio of Crunchy Nut, Special K and All-Bran breakfast toppers, as well as two new prebiotic All-Bran cereals (rsp: £2.99/380g).