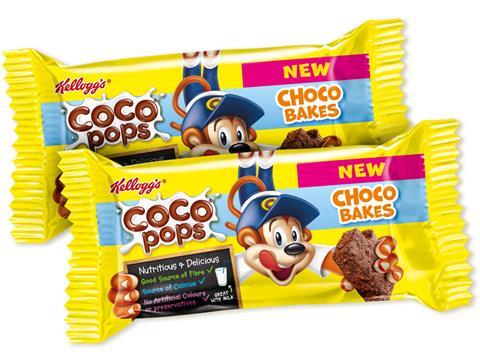 Kellogg's has launched a raft of innovation across its cereal and snack portfolios, including a 'healthy' brownie from its Coco Pops brand.
Coco Pops Choco Bakes are chocolate chip bars suitable as an after-school treat, according to the brand. Marketed as a "brownie that's healthy", each contains 142 calories. They come in singles (rsp: 59p/38g) and five-packs (rsp: £1.99).
Available from June, the bars will be supported by a £1.5m marketing spend, including TV and print advertising, which will target mums during the back-to-school period after the spring bank holiday.
"We think Choco Bakes are a real winner," said Nick Dawson, Kellogg's sales director. "Our testing showed that 73% of mums would either definitely or probably buy them."
The brand is also launching two free gifts: an 'on the go' cereal tub and a range of colour-changing spoons, both available via packs of Coco Pops, Frosties and Rice Krispies.
The tubs will be available in store with the purchase of two packs of Kellogg's cereal, while the three spoons, which turn one colour in cold milk and another in hot, will be found inside boxes of cereal.
Kellogg's re-introduced inserts in 2014, after an eight-year break. "One of our most consistent consumer requests is for more toys and inserts," said Dawson.
Finally, Kellogg's is set to launch a new flavour of Pringles for its 40g pots (rsp: 59p). The hot & spicy variant will be available in the impulse channel from June, joining the four already in the range.