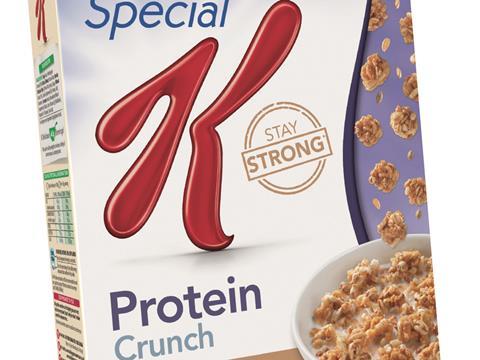 Kellogg's Special K has jumped on the protein bandwagon as part of a major NPD programme for the breakfast brand.

Special K Protein Crunch is flavoured with a 'dash of honey and cinnamon' and contains 5.1g protein from plant sources in each 30g serving, versus 2.7g in a bowl of original Special K.

Rolling into the mults from the beginning of July (rsp: £2.99/390g), the newcomer would tap the protein trend and help re-introduce Special K to its core female audience, claimed commercial marketing director Jane Ghosh.

The product hits shelves just weeks after rival brands Weetabix and Fuel10K launched similar cereals - Weetabix Protein Crunch and Fuel10K Protiflakes - that contain 6g and 7.1g of protein respectively in a 30g serving.

Special K Protein Crunch, which is based on the "tried and tested" Go Lean Crunch made by Kellogg's affiliate Kashi in the US - had been made with "as much protein as possible" without affecting taste, said Ghosh. "For us, taste is absolutely critical and we were intent not to compromise our product."

Kellogg's will be hoping to reverse faltering Special K sales, which dropped 13.4% last year to £123.2m [Nielsen 52 w/e 3 January 2015].

On the back of the success of Special K Coco Pops and Multigrain Porridge, the brand is adding a three-strong Super Porridge range to the portfolio (rsp: £1.99/five sachets or £1.19/50g pots). Made with barley, oats, rye, wheat flakes and spelt - with a selection of fruits, seeds and nuts for added flavour - the trio had been developed to fill a gap for a healthier porridge with a more interesting texture, said Ghosh.

The brand has also extended its granola line with a chocolate & hazelnut variant (rsp: £2.99/450g) that will be rolled out alongside Kellogg's Snacks Big Packs - packs of Coco Pops, Rice Krispies and Special K Red Berry cereal bars (rsp: £2.99/10 bars). NPD will be supported with a £15m marketing investment earmarked for Special K this year.