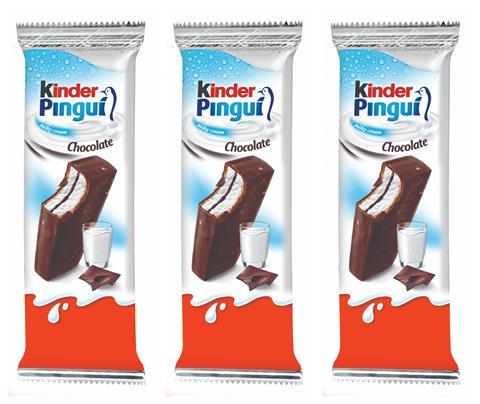 Ferrero has taken its first steps into the £200m-plus kids' chilled snack category with two new Kinder products targeting the after-school snacking occasion.
The confectionery giant has launched Kinder Milk-Slice and Kinder Pingui, which will be merchandised alongside child-friendly yoghurt and milk-based snacks in the dairy aisle. The range, which is already on sale in Asda, will roll out nationally from September.
Available in single-serve (rsp: 40p/28g) and in five-packs (rsp: £1.56), Kinder Milk-Slice is described as a snack bar containing a fluffy milky filling, two thin layers of sponge and a drop of honey. The product contains 40.5% fresh milk, and 118 calories.
Kinder's Pingui is made from 24% fresh milk and combines a milky filling with two thin layers of cocoa sponge, covered in chocolate. It contains 135 calories per 30g serving (rsp: 30p each, £1.59/four-pack).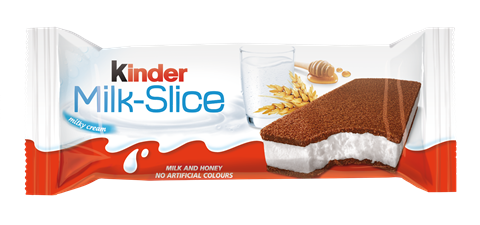 Kinder's chilled snacking range was already a strong performer in Ireland after launch some 16 years ago, Kinder said. It recorded combined sales of €2.4m for the year to 31 December 2018, for Pingui, Milk-Slice and its Maxi King product (currently not available in the UK), up 23% on the previous year [Kantar].
The products are also long-established in Italy (with combined sales of €117m in 2018 [IRI]), and Germany, which posted sales of €503m last year [Ferrero data], albeit with much larger product offerings in each market.
The British launch marked a "further diversification" of Kinder's brands in the UK market, said customer development director Levi Boorer. "Kinder Chilled is a great value proposition," Boorer added. "It provides parents with the reassurance of a good quality snacking product from a brand they can trust – and the portion size means they can be enjoyed as a little treat."
It comes as Ferrero this week announced plans for a £6.8m marketing push for its confectionery portfolio over the Christmas period.